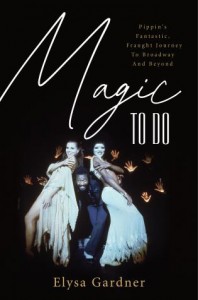 Magic to Do: Pippin's Fantastic, Fraught Journey to Broadway and Beyond
By Elysa Gardner
(Applause Books, November 2022)
In Magic to Do, which celebrates the 50th anniversary of Pippin's opening, two-time Pulitzer Prize jury member Elysa Gardner turns her attention to this innovative show, the musical retelling of the story of Prince Pippin, son of Charlemagne, and his quest for an "extraordinary life." Magic to Do dives deep into the legendary clashes, backstage drama, and incredible artistic synergy that produced one of Broadway's most influential musicals, a show that paved the way for the pop-informed musicals that we know and love today. Full of big personalities, brilliant creative minds, and never-before-told stories, Magic to Do is an intimate look at a moment in history, a time and a place in which popular culture was as defined by conflict—between the young and the old, idealism and cynicism, creation and destruction—as anything else. Gardner draws out this friction through her examination of the creative struggles between Pippin's director/choreographer, the iconic Bob Fosse, for whom the show would mark a massive career resurgence, and its young composer/lyricist, Stephen Schwartz (of Wicked fame), who was making his Broadway debut.
Magic to Do, named for the opening song of the musical, clearly marks the lasting cultural significance of Pippin, which derives in large part from the timelessness of the search for self, one that presents itself anew to each succeeding generation, accounting for the show's enduring popularity around the world. Infused with R&B sounds and a universal message, it is fair to say that, without Pippin, there is no Spring Awakening, Dear Evan Hansen, or even Hamilton.
****
"Compulsively readable…. Through her cultural anthropology and extensive interviews, Gardner provides singular insight into the creation of this arresting, weird and somewhat nonsensical piece of theater. Magic to Do is for more than just Fosse completists and those who save their old Playbills. It allows a rare glimpse into the perils and joys of collaboration and the indefinable alchemy necessary to develop any piece of art that transcends generations."
–The New York Times
"A dishy, fascinating look at how creative powerhouses can change the world, and the dirty work it can take to produce truly meaningful art."
–Town & Country
"Where the book shines is in locating Pippin in its contemporary cultural and political moment…. An intimate and insightful addition for die-hard fans of Pippin, musical theater, and pop culture history."
–Library Journal
"A 1972 musical takes shape amid clashing outsize personalities in journalist Gardner's fizzy debut…. Broadway buffs will fall under the spell of this showbiz saga."
–Publishers Weekly
****
Elysa Gardner currently covers cabaret for the New York Times and has at various points been a regular contributor to The New Yorker (as "Night Life" columnist), Rolling Stone, the Los Angeles Times, and VH1. Formerly the theater and music critic for USA Today, she, and her writing, have also appeared in Entertainment Weekly, Spin, Vibe, Billboard, Town & Country, Out, American Theatre, and other publications. Her TV and radio appearances range from NPR to The Today Show. Elysa has served on the Pulitzer Prize drama jury twice, most recently (2017) as chair, and is a board member of the Drama Desk.