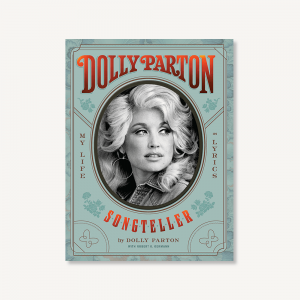 Dolly Parton, Songteller: My Life in Lyrics
By Dolly Parton, with Robert K. Oermann
(Chronicle Books, November 2020)
• A New York Times Bestseller
Dolly Parton, Songteller: My Life in Lyrics is a landmark celebration of the remarkable life and career of a country music and pop culture legend.
As told by Dolly Parton in her own inimitable words, this book explores the songs that have defined her journey. It is illustrated throughout with previously unpublished images from Dolly Parton's personal and business archives.
Mining over 60 years of songwriting, Dolly Parton highlights 175 of her songs and brings readers behind the lyrics. Dolly Parton, Songteller is packed with never-before-seen photographs and classic memorabilia and explores the personal stories, candid insights, and myriad memories behind her songs.
Dolly Parton, Songteller reveals the stories and memories that have made Dolly a beloved icon across generations, genders, and social and international boundaries.
Containing rare photos and memorabilia from Parton's archives, this book is a show- stopping must-have for every Dolly Parton fan.
****
"'My name is Dolly Parton, and I am a songwriter….In a song, I can go anywhere and do anything.' So begins this volume dedicated to the craft of a country music superstar only belatedly being recognized as the national treasure that she is. The book presents the lyrics to 175 of her songs—from 'Jolene' and 'Coat of Many Colors' to 'I Will Always Love You' and '9 to 5,' along with many other lesser-known compositions—accompanied by the stories behind them. And the photos! A lavish scrapbook for Dolly fans."
–Kirkus Reviews
****
Dolly Parton is the most honored and revered female country singer-songwriter of all time. Achieving 25 RIAA-certified gold, platinum, and multi-platinum awards, she has had 26 songs reach #1 on the Billboard country charts, a record for a female artist. Parton recently became the first country artist honored as Grammy MusiCares Person of the Year given out by NARAS. She has 41 career Top 10 country albums, a record for any artist, and 110 career-charted singles over the past 40 years. In 2014, the RIAA recognized her impact on recorded music with a plaque commemorating more than 100 million units sold worldwide. Her 2016 #1 album, Pure & Simple, which topped the Billboard Top Country Albums and Americana/Folk Albums charts and debuted at No. 1 in the U.S., Canada, U.K. and Australia, added to that massive tally. She has garnered ten Grammy Awards and 49 nominations, including the Lifetime Achievement Award and a 2020 win with for KING & COUNTRY for their collaboration on "God Only Knows"; 10 Country Music Association Awards, including Entertainer of the Year; five Academy of Country Music Awards, also including a nod for Entertainer of the Year; four People's Choice Awards; and three American Music Awards. In 1999, Parton was inducted as a member of the coveted Country Music Hall of Fame. Parton has donated over 130 million books to children around the world with her Imagination Library. Her children's book, Coat of Many Colors, was dedicated to the Library of Congress to honor the Imagination Library's 100 millionth book donation.
Robert K. Oermann is an award-winning multimedia music journalist who is considered the "unofficial historian of Nashville's musical heritage." He writes weekly columns for Music Row magazine and has been published in more than 100 periodicals including Entertainment Weekly, Esquire, Billboard, Hollywood Reporter, TV Guide, The Tennessean, and USA Today. Oermann is also a television and radio script writer and director of dozens of national productions. His various honors include the ASCAP-Deems Taylor Award, the Media Achievement Award from the Country Music Association, Country Music People's International Media Award, Goldmine's Best Historical Writer, and SESAC's Journalistic Achievement Award. He has authored eight books and penned liner notes for over 100 albums and box sets. Oermann has lectured about popular music, journalism, and country music at many colleges and universities, and lives in Nashville with his wife, Mary A. Bufwack.