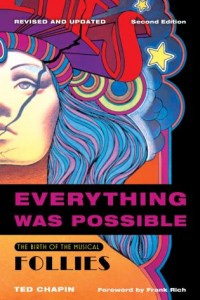 Everything Was Possible: The Birth of the Musical Follies
By Ted Chapin
(Applause Books, August 2022)
Have you ever been curious about what it takes to get an original Broadway musical to opening night? Ted Chapin, college student at the time, had a front row seat at the creation of Stephen Sondheim's Follies, now considered one of the most important musicals of modern time. He kept a detailed journal of his experience as the sole production assistant, which he used as the basis for Everything Was Possible, originally published in 2003. He was there in the drama-filled rehearsal room, typing the endless rewrites, ferrying new songs around town, pampering the film and television stars in the cast, travelling with the show to its Boston tryout and back to New York for the Broadway opening night. With an enthusiast's focus on detail and a journalist's skill, Chapin takes the reader on the roller-coaster ride of creating a new and original Broadway musical. Musical theater giants, still rising in their careers, were working at top form on what became a Tony Award-winning classic: Stephen Sondheim, Harold Prince, and Michael Bennett. Many classic Sondheim songs like "I'm Still Here," "Losing My Mind," and "Broadway Baby" were part of the score, some written in a hotel room in Boston.
Celebrate the 50th anniversary of Follies with Ted Chapin. A new afterword brings the history of the show forward, diving into recent productions around the world, new recordings, and the continued promise of a film version.
****
"It's not only the best book about the musical theater I've ever read, it was so vivid that I couldn't wait to see how everything turned out."
–Stephen Sondheim
"If there has ever been an account of the creation of a major Broadway production as complete, candid and apocrypha-free as this one, I have not found it."
–Frank Rich, writer-at-large for New York Magazine
"A book to please Sondheim aficionados, it should also engross anyone wanting to know the details of mounting a big-budget Broadway show."
–Booklist, starred review
****
Ted Chapin was president of The Rodgers & Hammerstein Organization for 40 years, having been hired by the two families shortly after Richard Rodgers passed away. His career has ranged from assistant director on the original production of Neil Simon's The Sunshine Boys to being one of the founders of the Encores! series at New York City Center. He sits on several boards and is the co-chairman of the American Theatre Wing and chairman of the Kurt Weill Foundation for Music. He is a frequent speaker at colleges and has made several film and television appearances.