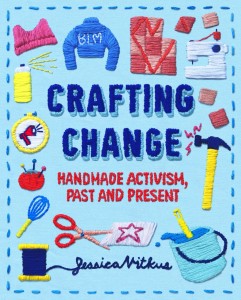 Crafting Change: Handmade Activism, Past and Present
By Jessica Vitkus
(Farrar, Straus and Giroux Books For Young Readers, October 2022)
You don't have to be old enough to vote to drive political change.
In Crafting Change, author, TV producer, and craftivist Jessica Vitkus explores the rich lineage of craftivism, with profiles of craftivisit icons, many of whom are women and people of color. This YA non-fiction book shines a light on artist-driven projects like This Is Not a Gun – workshops where people sculpt objects the police have mistaken for a gun in fatal shootings – alongside creative movements that mobilized entire communities, like the AIDS Memorial Quilt and the Pussyhat project for the 2017 Women's March. This engaging narrative combines compelling artist interviews with full-color photos of creators and crafts alike.
A perfect book for teens who want to channel their creativity into political action, with ideas for simple projects sure to appeal to budding craftivists.
****
"At once fascinating, thought provoking, and inspiring."
–Booklist, starred review
"Reading the interview excerpts with craftivists, such as Black Girl Magic Portraits creator Melissa Blount, Pussyhat Project creators Jayna Zweiman and Krista Suh, and organizations like the Be Seen Project, will give any craftivist or crafting club lots of steam. … Expertly organized to document the psychological benefits and historical and contemporary ways crafting brings communities together in action."
–School Library Journal, starred review
"Profiling a variety of makers, craftspeople who use their creations to get their messages out, this bright, well-illustrated book encourages readers to try their hands at craftivism…. The subjects are broadly diverse, and their passions connect to a range of social issues, so most readers will both feel included and learn something new…. Expansive, inclusive, and motivating."
–Kirkus Reviews
****
Jessica Vitkus is a writer and television producer living in New York City. She has written craft stories and developed craft projects for Martha Stewart magazines and television, and has worked as a writer/producer for MTV News, Pop-Up Video, The Daily Show with Jon Stewart, and Late Night with Stephen Colbert.