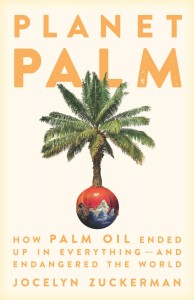 Planet Palm: How Palm Oil Became an Ingredient in Everything―and Endangered the World
By Jocelyn Zuckerman
(The New Press, May 2021)
It's in our instant noodles and chocolate bars, our lipsticks and fuel tanks. But what is palm oil, and how has it come to dominate our lives so completely?
James Beard Award–winning journalist Jocelyn C. Zuckerman travels across four continents and back in time two centuries to find answers about the most widely used vegetable oil on Earth. The obscure oil palm fruit, she discovers, has played an outsized role in history, from greasing the gears of the Second Industrial Revolution to transforming the economies of Malaysia and Indonesia. But this little fruit also belies an industry of vicious exploitation and ruinous damage to our planet. The multi-billion-dollar palm oil business has been built on stolen land and slave labor, once spurred the colonization of Nigeria, and has swept away lives and cultures. Fires lit to clear the way for plantations spew carbon emissions to rival those of entire industrialized nations. Mass deforestation so ravaged the landscapes of Southeast Asia that animals like the orangutan now teeter on the brink of extinction.
Jocelyn C. Zuckerman spent years traveling the globe, from Liberia to Indonesia, India to Brazil, reporting on the human and environmental impacts of this poorly understood plant. The result is Planet Palm, a riveting account blending history, science, politics, and food as seen through the people whose lives have been upended by this hidden ingredient. Planet Palm offers an unsettling, urgent look at the global palm oil industry, illuminating what has today become an environmental, public health, and human rights disaster.
****
"Crisscrossing four continents, Zuckerman presents a spirited and disarming exposé of the insidious way this one tree species has endangered cultures, economies, and ecosystems… [a] crucial and exemplary work of investigative planetary journalism."
–Booklist, starred review
"[A] definitive, damning account of the history of palm oil production and the ecological destruction it causes…. Instructive and provocative."
–Kirkus Reviews
"Grounded in years of painstaking journalistic research, Planet Palm offers fascinating insights into the labyrinthine and often environmentally destructive palm oil industry."
–International Affairs
"This extraordinary work of investigative journalism will make you cry and gnash your teeth. It will fill you with rage. Essential reading for everyone who wonders if their food choices matter."
–Ruth Reichl, bestselling author of Tender At the Bone and My Kitchen Year
****
Jocelyn Zuckerman is a writer and journalist whose work has appeared in Fast Company, The American Prospect, the New York Times Magazine, and other publications. She served as deputy editor at Gourmet, articles editor at OnEarth, and executive editor at both Whole Living and Modern Farmer magazines. An honors graduate of Columbia University's Journalism School, she is the recipient of a James Beard Award for feature writing and numerous fellowships, including an Alicia Patterson Fellowship in support of her research on palm oil. She is based in Brooklyn, NY.