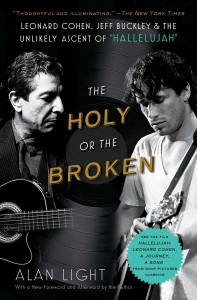 The Holy or the Broken: Leonard Cohen, Jeff Buckley, and the Unlikely Ascent of "Hallelujah"
By Alan Light
(Atria, June 2022)
• This revised and updated edition was published in anticipation of the feature-length documentary based on the book, Hallelujah: Leonard Cohen, a Journey, a Song, distributed by Sony Pictures Classics, which had its US theatrical release on July 1, 2022.
The Holy or the Broken is the unforgettable, fascinating, and unexpected account of one of the most-performed and beloved songs in pop history — Leonard Cohen's heartrending "Hallelujah."
When Leonard Cohen first wrote and recorded the song "Hallelujah," it attracted little attention or airplay, dismissed by both fans and critics alike. Today, it is one of the most recorded songs in history, having been covered by a variety of music icons, including Celine Dion, Bon Jovi, Willie Nelson, and, most famously, Jeff Buckley. It's been featured on soundtracks as diverse as Shrek to The West Wing. And in the days after major tragedies, it has brought comfort to thousands after being featured in the MTV 9/11 tribute video and the telethon for the 2010 Haitian earthquake.
So, how did one obscure song become an unofficial international anthem for human triumph and tragedy, a song each successive generation feels they have discovered and claimed as uniquely their own? What led hundreds of artists, including Bob Dylan, U2, Justin Timberlake, and k.d. lang to cover it?
Through expansive research and in-depth interviews with its interpreters and the key figures who were actually there for its original recordings, celebrated music journalist Alan Light follows the captivating and improbable journey of "Hallelujah" straight to the heart of popular culture. In The Holy or the Broken readers will discover how great songs come to be, and how we as listeners have the endless ability to project a succession of meanings onto a cultural artifact, forever reinterpreting art through the lens of current events and the latest trends.
****
"Thoughtful and illuminating… [Mr. Light] is a fine companion for this journey through one song's changing fortunes."
–The New York Times
"Brilliantly revelatory…. A masterful work of critical journalism."
–Kirkus Reviews, starred review
****
Alan Light has been one of America's leading music journalists for the past 20 years. He was a writer at Rolling Stone, founding music editor and editor-in-chief of Vibe, and editor-in-chief of Spin magazine. He has been a contributor to the New Yorker, GQ, Entertainment Weekly, Elle, and Mother Jones. He is the author of The Skills to Pay the Bills, an oral history of the Beastie Boys, and What Happened, Miss Simone?; and the co-writer of New York Times-bestselling memoirs by Gregg Allman, My Cross to Bear, and Peter Frampton, Do You Feel Like I Do? Light is based in New York City.