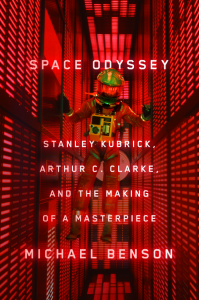 Space Odyssey: Stanley Kubrick, Arthur C. Clarke, and the Making of a Masterpiece
by Michael Benson
Space Odyssey is the definitive history of the making of 2001: A Space Odyssey, to be released in April 2018 in celebration of film's 50th anniversary. Created by noted filmmaker Stanley Kubrick, then fresh off the success of his brilliant Cold War satire Dr. Strangelove, and Arthur C. Clarke, one of the century's most important science fiction writers, 2001 is one of the most original and influential films ever made.
Drawing on his exclusive interviews with Clarke, full support of the Kubrick Estate, and access to a rich lode of unpublished archives, Benson tells not just the story of a high-intensity creative partnership, but discusses 2001's origins and influences, as well as giving significant attention to the important work of Kubrick's other collaborators. With a scope befitting such an epic film, Space Odyssey is an exploration of the relationship between science and science fiction, 2001's impressive cinematic legacy, and how the film speaks to our current concerns regarding science, technology, artificial intelligence, space exploration, and art.
"At last! The dense, intense, detailed, and authoritative saga of the making of the greatest motion picture I've ever seen, 2001: A Space Odyssey. Michael Benson has done the Cosmos a great service."
—Tom Hanks

"Over the years, so much has been written about 2001 and its creation that I thought we knew all that there was to know. And then, I received a copy of Michael Benson's lively, exciting and exhaustively researched book, which further expands our understanding of what is truly one of the greatest films ever made."
—Martin Scorsese

"[This] is a masterpiece about a masterpiece — a passionately written, impeccably researched book about a great director's relentless quest for a vision of the transcendent future of both space and film itself."
—Scott Eyman, author of Hank & Jim and John Wayne
"Despite the attention he lavishes on the humans—Kubrick and Clarke—HAL-9000 would have been proud of Benson's smart, fluent, and meticulously researched account of the making of a sci-fi classic."
—Peter Biskind, author of Easy Riders, Raging Bulls: How the Sex, Drugs, and Rock 'n Roll Generation Saved Hollywood
"A new and remarkably comprehensive look at the complex relationship between the two men whose collaboration led to one of the greatest films of all time… Benson is clearly in tune with the film…and he follows the story of the movie's creation with an eye for small, precise detail. In its way, this story about the making of 2001 is as compelling and eye-opening as the film itself."
—Booklist (starred review)
"A fascinating, detail-rich account of the long slog to make the science-fiction masterpiece 2001: A Space Odyssey…[an] endlessly interesting narrative. Essential for students of film history, to say nothing of Kubrick's most successful movie."
—Kirkus (starred review)
Michael Benson is a writer, photographer, filmmaker, and exhibitions producer. His writing has appeared in The Atlantic Monthly, The New Yorker, The New York Times, The Washington Post, Rolling Stone, Smithsonian, ArtForum, and other publications. His photography is shown internationally, most recently at the Natural History Museum in London. He is the director of the award-winning film Predictions of Fire (1995) and the global road movie More Places Forever (2008). He is also the author of several art books on space: BEYOND (Abrams 2003), COSMIGRAPHICS (Abrams 2014), PLANETFALL (Abrams 2012), FAR OUT (Abrams 2009), and OTHERWORLDS (Abrams 2017). He is based in New York City and his website is www.michael-benson.net.