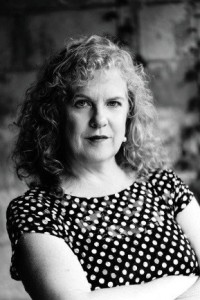 Ann Powers (@annkpowers) is NPR's music critic and correspondent and one of the nation's leading music writers. Throughout her storied career, Ann has held positions at San Francisco Weekly, the New York Times, Los Angeles Times, the Village Voice, Blender, and the and the Experience Music Project. Since 2011 she's written for NPR's music news blog, The Record, covering music through the lenses of culture, gender, sexuality, and race. Most recently, she spearheaded Turning the Tables, a collaboration between NPR and Lincoln Center that highlights the contributions of female artists. Turning the Tables has curated a list of the 150 greatest albums by women that aims to start a new conversation about women's place in music history, and to make a much-needed intervention in the canon of music writing. 
"[The list] stands for music history, touching upon every significant trend, social issue, set of sonic innovations, and new avenue for self-expression that popular music has intersected in the past fifty years," Powers writes. The same might be said for Powers's own career: through her five books and countless articles she has redefined the parameters of music criticism, making sure women are given their proper due, not at the margins, but at the center of the story.
Ann Powers's influence on contemporary music criticism is indelible. In honor of the August 15th publication of Good Booty, we hope you enjoy this look back at all the books she has published with Sarah Lazin Books.
Good Booty: Love and Sex, Black & White, Body and Soul in American Music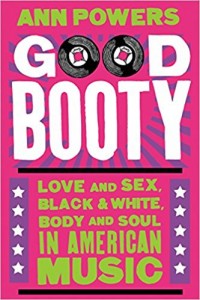 Dey Street Books (August 2017)
In this sweeping history of popular music in the United States, Ann Powers examines how popular music shapes fundamental American ideas and beliefs, allowing us to communicate difficult emotions and truths about our most fraught social issues, most notably sex and race. To listen to the music explored in Good Booty, check out the Spotify playlist compiled by 1A here.
In Good Booty, Ann Powers explores how popular music became America's primary erotic art form. Powers takes us from nineteenth-century New Orleans through dance-crazed Jazz Age New York to the teen scream years of mid-twentieth century rock-and-roll to the cutting-edge adventures of today's web-based pop stars. Drawing on her deep knowledge and insights on gender and sexuality, Powers recounts stories of forbidden lovers, wild shimmy-shakers, orgasmic gospel singers, countercultural perverts, soft-rock sensitivos, punk Puritans, and the cyborg known as Britney Spears to illuminate how eroticism—not merely sex, but love, bodily freedom, and liberating joy—became entwined within the rhythms and melodies of American song. This cohesion, she reveals, touches the heart of America's anxieties and hopes about race, feminism, marriage, youth, and freedom.
In a survey that spans more than a century of music, Powers both heralds little known artists such as Florence Mills, a contemporary of Josephine Baker, and gospel queen Dorothy Love Coates, and sheds new light on artists we think we know well, from the Beatles and Jim Morrison to Madonna and Beyoncé. In telling the history of how American popular music and sexuality intersect—a magnum opus over two decades in the making—Powers offers new insights into our nation psyche and our soul.
"No writer on music has as keen a mind or as great a heart as Ann Powers. Sex is the subject, but Good Booty is really a tour-de-force history of an entire century of pop, rich in feeling and fierce in insight. It's a dazzling achievement."—Alex Ross, The Rest is Noise
"With precision and wit, and across multiple musical genres, Powers contextualizes the complicated interplay of gender, sex, and race inherent in popular music within and against the backdrop of America's puritanical founding."— Library Journal (starred Review)
"SEX'N'DRUGS'N'ROCK'N'ROLL!' is a great, shoutable slogan. Anyone who's actually had sex knows it's rarely that simple. From race to religion and repression to rebellion, Ann Powers makes the decades-long dance of music and desire a page-turning drama. Good Booty transforms stars I thought I knew, and uncovers cries and whispers I'd never heard. It's an instant, indispensable classic, for a culture that always needs sexual healing." —Carl Wilson, author of Let's Talk About Love
"Informative and entertaining…Powers reveals an extraordinary breadth of knowledge and insight and has produced an absolutely essential addition to any pop culture collection." —Booklist (starred review)
Broadway 2005
A NEW YORK TIMES BESTSELLER
Tori Amos is a formidable force in music with an incredibly dedicated fan base. In TORI AMOS, acclaimed music journalist Ann Powers takes readers into the heart of Amos' creative process and reveals intimate details about her life. Filled with striking photographs, this book is an inside look at what it's really like to be Tori Amos.
"Amos comes across as thoughtful, likable, and witty . . . With undoubted appeal to Amos's legion of fans, [Piece by Piece] could offer additional interest to artists of all stripes, who may find reflections of their own experiences in hers." —Publishers Weekly
"No mere star memoir . . . it's more like a soul-map of Amos's stride from pop tart to poet provocateur." —Blender
WEIRD LIKE US: My Bohemian America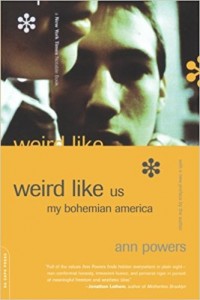 Simon & Schuster 2000, Da Capo 2001
Packed with stories from Ann Powers' life and those of her fellow millennial bohemians, WEIRD LIKE US demonstrates the ways in which the American cultural fringe is transforming kinship patterns, sexual identity, drug culture, the consumer economy, and the essential meaning of adulthood. Painting a visceral portrait of the politics, emotions, and creative output that contributed to a metamorphosis from the dying counterculture of the Sixties to a resilient form of artistic and spiritual survival in the Nineties, Powers writes as one of this generation's great authors and cultural critics.
"Part cultural history, part personal memoir, WEIRD LIKE US is a rebuff to anyone who thinks bohemia is over … Wickedly funny and original."
—The New York Times
ROCK SHE WROTE: An Anthology of Women's Writing About Rock Pop, and Soul, edited with Evelyn McDonnell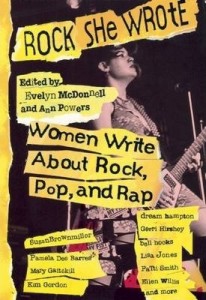 Dell 1995, Cooper Square Press 1999
A unique, ground-breaking collection of women writing about rock, pop, and rap, ROCK SHE WROTE features the freshest female names in music, from writers to critics to musicians themselves. ROCK SHE WROTE collects the best of women's writing on music from the 1960's to 1995, from screaming groupies behind the scenes to women taking center stage as performers and critics. These vibrant, nasty, irreverent, and often brilliant voices tell the untold history of women in rock.
Patti Smith, Ellen Willis, Kim Gordon, and bell hooks are just a few of the names who turn rock n' roll on its head in this provocative collection. The articles in ROCK SHE WROTE bring us feminism and rock n' roll, the music of female self-discovery, the beats of liberation and power, and the intimate details of American pop culture.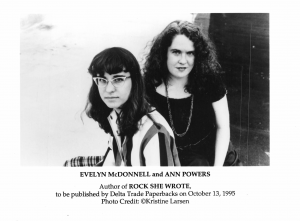 OTHER WRITING: DA CAPO BEST MUSIC WRITING 2010 (Da Capo 2010).
You can read more of Ann Powers's writing:
And elsewhere!