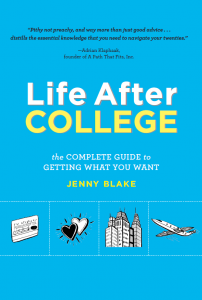 Life After College: The Complete Guide to Getting What You Want
by Jenny Blake
(Running Press 2011, updated 2018)
"Jenny Blake is a rock star of her generation. The book is chock-full of tips, tricks, tweets, and the genuine empathy of someone who has been in the shoes of her readers. Recent grads will love her writing style and the book's exercises, which encourage readers to personalize their own journeys." —Lindsey Pollack, author of Getting from College to Career: 90 Things to Do Before You Join the Real World
"This book serves as a roadmap for navigating the various aspects of your life during your twenties. Jenny shares wonderful tips, practical advice, and stories to help inspire individuals to live their truest dreams." —Christine Hassler, author of 20 Something, 20 Everything and 20 Something Manifesto
Need some straightforward guidance on how to maneuver the real world? Do you wish there was a roadmap that would help you figure out how to get where you want to do? Life After College is that guide. Jenny Blake offers you practical, actionable advice to achieve your goals.
Life After College is an essential manual for recent college graduates, with hundreds of tips and exercises, all newly updated for 2018, to get you inspired, focused, and ready to thrive in every area.
A career and business strategist, international speaker, and author who helps people organize their brain, move beyond burnout, and build sustainable, dynamic careers they love, Jenny Blake spent five years at Google in training and career development while writing Life After College. In 2016, Jenny released her second book, Pivot: The Only Move That Matters is Your Next One, and launched her top-rated Pivot Podcast. Her motto: if change is the only constant, let's get better at it. She is based in New York City.