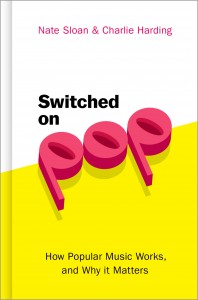 Switched On Pop: How Popular Music Works, and Why it Matters
By Nate Sloan and Charlie Harding
(Oxford University Press, December 2019)
Pop music surrounds us—in our cars, over supermarket speakers, even when we are laid out at the dentist—but how often do we really hear what's playing? Switched on Pop is the book based on the eponymous podcast that has been hailed by NPR, Rolling Stone, The Guardian, and Entertainment Weekly for its witty and accessible analysis of Top 40 hits. Through close studies of sixteen modern classics, musicologist Nate Sloan and songwriter Charlie Harding shift pop from the background to the foreground, illuminating the essential musical concepts behind two decades of chart-topping songs.
Despite the importance of pop music in contemporary culture, most discourse only revolves around lyrics and celebrity. Switched on Pop gives readers the tools they need to interpret our modern soundtrack. Each chapter investigates a different song and artist, revealing musical insights such as how a single melodic motif follows Taylor Swift through every genre that she samples, André 3000 uses metric manipulation to get listeners to "shake it like a Polaroid picture," or Luis Fonsi and Daddy Yankee create harmonic ambiguity in "Despacito" that mirrors the patterns of global migration.
Replete with engaging discussions and original illustrations, Switched on Pop brings to life the musical qualities that catapult songs into the pop pantheon. Readers will find themselves listening to familiar tracks in new ways—and not just those from the Top 40. The timeless concepts that Nate and Charlie define can be applied to any musical style. From fanatics to skeptics, teenagers to octogenarians, non-musicians to professional composers, every music lover will discover something ear-opening in Switched on Pop.
****
"Switched on Pop weaves these meta-analyses [of songs] into its more clinical breakdowns, creating a reading experience as multidimensional as the songs they describe. Readers come away from each chapter understanding not just the building blocks of a particular song or why those are so satisfying to listeners, but also how each of those elements — and the song itself — fit into the arc of American music history."
—The Atlantic
"Sloan and Harding's ode to popular music reintroduces the Billboard Top 100 to the field of musicology and the snobbiest of vinyl collectors. A necessary addition to any music collection."
—Library Journal, starred review
"Sloan and Harding take great care in helping us understand why pop music sounds the way it does, and why pop music is important in your life, no matter who you are…They're not just two guys—they're experts."
—Paste
****
Nate Sloan is a musicologist, performer and educator based in Los Angeles. He received his Ph.D. from Stanford University and currently teaches at the University of Southern California. Nate is co-host of the music podcast Switched on Pop and a pop music panelist on Canadian Broadcast Corporation (CBC) Radio's Day 6. Nate is also an award-winning performer and composer. His two-man vaudeville act "The Gideon and Hubcap Show" has played at the Edinburgh Fringe Festival and at the Soho Theatre in London, and Nate composed the score for the 2014 SXSW Short Doc prize film Slomo.
Charlie Harding is the co-host of Switched On Pop, a songwriter and longtime musical collaborator with his co-host Nate Sloan. Charlie also works in the humanitarian sector, serving as the Director of Product Management at Ushahidi, which builds crowdsourcing software to help people raise their voices. Previously, Charlie worked for Google and Google.org where he worked on internet access software and infrastructure projects to bridge the digital divide in the developing world. He also co-founded Runa, a social enterprise tea company that works with over 2,000 indigenous farming families. He is based in Los Angeles.