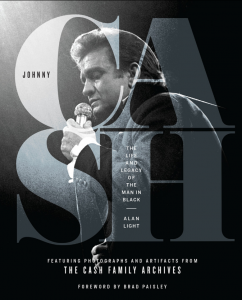 Johnny Cash: The Life and Legacy of the Man in Black
by Alan Light
(Smithsonian Books, October 2018)
"There can never be another Johnny Cash. With close-up images and the big-picture story, this book offers new insight into the life of an American hero."
–Sheryl Crow

An illustrated biography of Johnny Cash that tells his life story through never-before-seen personal photographs and memorabilia from the Cash family
Johnny Cash: The Life and Legacy of the Man in Black is a Cash biography like no other. It reveals Cash's personal and professional life through largely unpublished material from the Cash family, including his handwritten notes and lyric sheets; personal photographs of Cash with his family, traveling, and performing onstage; and beloved objects from his home and private recording studio. Alan Light, one of America's leading music journalists, traces Cash's story from his origins in rural Arkansas to his early recordings with Sun Records; from his battles with drug dependency and divorce to his romance with June Carter; and from his commercial musical successes, including At Folsom Prison and American Recordings, to his death and legacy. The book also includes vignettes on four sustaining themes of Cash's life: his musical influences, his social justice advocacy, his relationship with June, and his religious beliefs. Rich and revealing, Johnny Cash: The Life and Legacy of the Man in Black is ideal for all those who want to learn more about the personal side of the beloved performer.
*****
"This resonant book offers far more than an overview of Johnny Cash's life and legacy: it gets to the very essence of who he was and what his life and music mean. Light's text reads beautifully and stands as an ideal complement to photos that inspire reveries about the works and days of this extraordinary artist."
–Anthony DeCurtis, author of Lou Reed: A Life
"'Johnny Cash was like Abraham Lincoln to me,' John Prine once said. We all agreed, though if Prine had said the same of Elvis or Sinatra, we wouldn't have, because it wouldn't have made a damn bit of sense. But with Cash it did. He was a man, an idea, a morality, a way of looking at the world. Though wrapped in contradictions, Cash always stood tall, like he'd come out of the soil, one of nature's inevitabilities. This book gives us an intimacy with the man. And that's an accomplishment worth celebrating."
–Warren Zanes, author of Petty: The Biography
*****
ALAN LIGHT has been one of America's leading music journalists for the past twenty years. He was a writer at Rolling Stone, founding music editor and editor-in-chief of Vibe, and editor-in-chief of Spin magazine. He has been a contributor to the New Yorker, GQ, Entertainment Weekly, Elle, and Mother Jones. He is the author of The Skills to Pay the Bills, an oral history of the Beastie Boys, and The Holy or the Broken: Leonard Cohen, Jeff Buckley, and the Unlikely Ascent of "Hallelujah"; and co-writer of the New York Times-bestselling memoir by Gregg Allman, My Cross to Bear.