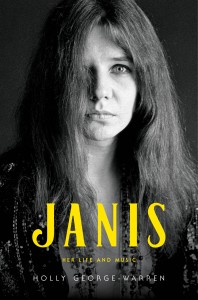 By Holly George-Warren
(Simon & Schuster, October 2019)
• We are thrilled to announced that Janis went FOUR-FOR-FOUR and received starred trade reviews from Kirkus Reviews, Publishers Weekly, Booklist, and Library Journal.
This blazingly intimate biography of Janis Joplin establishes the Queen of Rock & Roll as the rule-breaking musical trailblazer and complicated, gender-bending rebel she was.
Janis Joplin has passed into legend as a brash, impassioned soul doomed by the pain that produced one of the most extraordinary voices in rock history. But in these pages, Holly George-Warren provides a revelatory and deeply satisfying portrait of a woman who wasn't all about suffering. Janis was a perfectionist: a passionate, erudite musician who was born with talent but also worked exceptionally hard to develop it. She was a woman who pushed the boundaries of gender and sexuality long before it was socially acceptable. She was a sensitive seeker who wanted to marry and settle down—but couldn't, or wouldn't. She was a Texan who yearned to flee Texas but could never quite get away—even after becoming a countercultural icon in San Francisco.
Written by one of the most highly regarded chroniclers of American music history, and based on unprecedented access to Janis Joplin's family, friends, band mates, archives, and long-lost interviews, Janis is a complex, rewarding portrait of a remarkable artist finally getting her due.
****
"A richly detailed, affectionate portrait…. A top-notch biography of one of the greatest performers to emerge from a brilliant era."
–Kirkus Reviews, starred review
"In this excellent biography,…. George-Warren beautifully tells a moving story of a woman whose life and music inspired a generation."
–Publishers Weekly, starred review
"George-Warren has written a biography as big, bold, and brash as its subject…. An insightful, compassionate, and, ultimately, tragic story of an artist gone too soon."
–Booklist, starred review
"This superb biography captures singer Janis Joplin's complex essence…. [A] must for Joplin fans, but anyone who enjoys a good biography will appreciate this exceptional work."
–Library Journal, starred review
"I've been waiting for the right person to write the definitive biography of Janis Joplin! All fans should be grateful it's finally here. Janis lives and breathes freedom and soul, and Holly George-Warren captures that spirit perfectly."
–Rosanne Cash
****
Holly George-Warren is an award-winning writer and music consultant. As editorial director of Rolling Stone Press from 1993-2001, she created over forty books, including New York Times bestsellers and ASCAP-Deems Taylor Award-winners. She has worked as a curator for the GRAMMY Museum, which opened in L.A. in December 2008, and currently serves on the nominating committee of the Rock and Roll Hall of Fame. A two-time Grammy nominee, she teaches Arts Journalism at the State University of New York in New Paltz, NY.