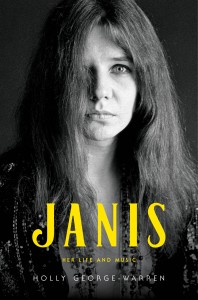 By Holly George-Warren
(Simon & Schuster, October 2019)
• Longlisted for the 2020 Andrew Carnegie Medal for Excellence in Nonfiction
This blazingly intimate biography of Janis Joplin establishes the Queen of Rock & Roll as the rule-breaking musical trailblazer and complicated, gender-bending rebel she was.
Janis Joplin has passed into legend as a brash, impassioned soul doomed by the pain that produced one of the most extraordinary voices in rock history. But in these pages, Holly George-Warren provides a revelatory and deeply satisfying portrait of a woman who wasn't all about suffering. Janis was a perfectionist: a passionate, erudite musician who was born with talent but also worked exceptionally hard to develop it. She was a woman who pushed the boundaries of gender and sexuality long before it was socially acceptable. She was a sensitive seeker who wanted to marry and settle down—but couldn't, or wouldn't. She was a Texan who yearned to flee Texas but could never quite get away—even after becoming a countercultural icon in San Francisco.
Written by one of the most highly regarded chroniclers of American music history, and based on unprecedented access to Janis Joplin's family, friends, band mates, archives, and long-lost interviews, Janis is a complex, rewarding portrait of a remarkable artist finally getting her due.
****
"[Janis] performs a service by stripping away a lot of the noise around Joplin . . . and telling her story simply and well, with some of the tone and flavor of a good novel."
—The New York Times
"In encapsulating Joplin's dual nature so concisely, George-Warren delivers the definitive portrait of one of pop culture's most misunderstood martyrs…. [In] dwelling so sympathetically on her tangle of talents, contradictions, and mythology, Janis brings one of rock's most enduring legends down to earth while holding her justly up to the light."
—NPR.com
"[Janis] is sober and thorough, and it amounts to the last word on a brief candle of an existence, a life whose peaks and valleys make your average mountain range look as flat as an acre of Texas farmland."
—The Washington Post
"Never before the revelatory new book Janis: Her Life and Music has [Janis Joplin] been fully recognized as a groundbreaking musician charting a fresh course for the blues, for rock, and for women, while, at the same time, obliterating the line between the performance of a song and essence of her soul."
—Entertainment Weekly
"Joplin was a swashbuckling, pleasure-seeking, polyamorous trailblazer in her music and lifestyle… Janis is not just biography, but social history too, a loose chronicle of America's late-Sixties counterculture, with cameo appearances by Bob Dylan, Andy Warhol, Jimi Hendrix, Joan Baez, George Harrison, Leonard Cohen, Otis Redding, Jim Morrison and more… As a rounded portrait of an explosively exciting artist, George-Warren's book is never less than engaging."
—The Times
****
Holly George-Warren is an award-winning writer and music consultant. As editorial director of Rolling Stone Press from 1993-2001, she created over forty books, including New York Times bestsellers and ASCAP-Deems Taylor Award-winners. She has worked as a curator for the GRAMMY Museum, which opened in L.A. in December 2008, and currently serves on the nominating committee of the Rock and Roll Hall of Fame. A two-time Grammy nominee, she teaches Arts Journalism at the State University of New York in New Paltz, NY.