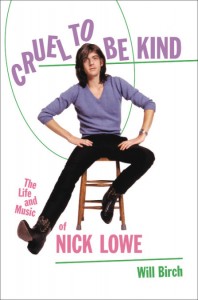 Cruel to Be Kind: The Life and Music of Nick Lowe
By Will Birch
(Da Capo, August 2019)
Described as "Britain's greatest living songwriter," Nick Lowe has made his mark as a pioneer of pub rock, power-pop, and punk rock and as a producer of Elvis Costello, Graham Parker, the Damned, and the Pretenders. He has been a pop star with his bands Brinsley Schwarz and Rockpile, a stepson-in-law to Johnny Cash and June Carter Cash, and is the writer behind hits including "Cruel to Be Kind" and "(What's So Funny 'Bout) Peace, Love, and Understanding." In the past decades, however, he has distinguished himself as an artist who is equally acclaimed for the second act of his career as a tender yet sharp-tongued acoustic balladeer.
Biographer Will Birch, who in addition to being a music writer was a drummer and songwriter with The Records, has known Lowe for over forty years and melds Lowe's gift as a witty raconteur with his own authoritative analysis of Lowe's background and the cultural scenes he exemplifies. Lowe's parallel fame as one of the best interviews in the business will contribute to this first look into his life and work–and likely the closest thing fans will get to an autobiography by this notoriously charming cult figure.
This is not an authorized biography, but Lowe has given it his spiritual blessing and his management and label are fully on board. Cruel to Be Kind is the colorful yet serious account of one of the world's most talented and admired musicians.
****
"[Cruel to Be Kind] makes clear that Lowe's contributions to pop music have been many and mighty–and certainly worthy of celebration with a biography…sure to please old-time admirers of an essential rocker."
—Kirkus Reviews
"In leisurely, insightful prose…Will Birch offers a solid biography for Lowe's devoted fans."
—Publishers Weekly
"[Will Birch] has written a sunny book about the genial and underappreciated Lowe, following his career through its many incarnations… [A]n enjoyable portrait."
—Booklist
****
Will Birch is a music journalist, drummer, and songwriter based in the UK. In the 1970s he performed with the bands Kursaal Flyers ("Little Does She Know") and The Records ("Starry Eyes"), before moving into record production and music journalism. He is the author of No Sleep Till Canvey Island – The Great Pub Rock Revolution (Virgin Books 2000). Co-agented with The Soho Agency.