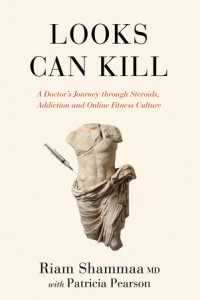 Looks Can Kill: A Doctor's Journey through Steroids, Addiction and Online Fitness Culture
By Riam Shammaa, with Patricia Pearson
(Random House Canada, January 2020)
A leader in sports medicine reveals the prevalence of anabolic steroids and appearance-enhancing drugs for recreational use, and explodes the myths and silence around these dangerous drugs of choice for the Instagram era.
From fitspiration vlogs touting "fit" as the new skinny to magazines imploring men to get "shredded" and "massive" in the gym, fitness stars and elevated body-image standards are driving a burgeoning industry meant, ostensibly, to make us all more healthy. But are those images of rippling abs, bulging shoulders and tiny waists truly inspiring good health? In Looks Can Kill, leading sports doctor (and former champion powerlifter) Riam Shammaa exposes the dirty secret of online fitness culture: rampant steroid and drug use, not only amongst its Instagram stars and wellness gurus, but eagerly enjoined by millions seeking to emulate a new beauty ideal (and its myth, of being all-natural).
Never mind the high-profile cases of athletes Marion Jones and Lance Armstrong. Steroids and other pharmaceuticals are being sold and consumed in life-threatening quantities online and through the backrooms of gyms and fitness centres, and the people buying them range from teen girls trying to look good on Instagram to middle-aged men who can't say good-bye to their youthful physiques.
This is a vivid, eye-opening and compassionate journey alongside a young doctor as he discovers an underworld of misinformation and misdirected ambition, drug abuse and lives cut short for the glory of competition, pageantry or the mistaken belief that we need to be fantastically beautiful in order to be fit.
****
Dr. Riam Shammaa is an expert in musculoskeletal medicine, pain medicine and regenerative and translational medicine. Having completed his residency in family medicine at McGill University and a fellowship in sports medicine at the University of Toronto, Dr. Shammaa was appointed lead physician at the 2015 Pan Am Games and has served in a similar role for many other sports organizations. Today, he is the medical director of the Canadian Centres for Regenerative Therapy. A pioneer in stem cell therapy, he conducted the first spinal discs repair using stem cells in Canada and lectures at the University of Toronto on Musculoskeletal diseases.
Patricia Pearson is an award-winning author and the recipient of three Canadian National Magazine Awards, the Arthur Ellis Award for best Canadian nonfiction crime writing, and a North American Travel Journalism Association award. Her work has appeared in The New Yorker, Toronto Life, Reader's Digest, the Toronto Star, National Post, The Guardian, the New York Times, More, the Globe and Mail, The Daily Telegraph, Business Week, NPR, CBC Television, The History Channel, and TV Ontario, among many others. In 2003, she was a finalist for the Stephen Leacock Memorial Medal for Humour, Canada's version of the Mark Twain prize.