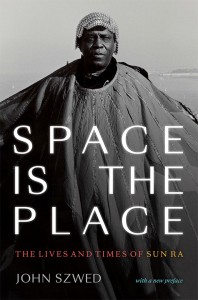 Space Is The Place: The Lives and Times of Sun Ra
By John Szwed
(Duke University Press, May 2020)
Space Is The Place is the definitive biography of Sun Ra, a.k.a. Herman Poole "Sonny" Blount (1914-1993), a composer, keyboardist, bandleader, philosopher, poet, and self-claimed extraterrestrial from Saturn. As the leader of the "Intergalactic Arkestra," a band of more than 30 musicians, he was unparalleled for his purposeful outlandishness and exerted a powerful influence over a vast array of artists. Considered by many to be the founding figure of Afrofuturism, he composed a musical philosophy that extends beyond the international to the interplanetary. Space Is The Place reveals the life, philosophy, and musical growth of one of the 20th century's greatest and most outrageous avant-garde musicians.
Reissued over 20 years after its original printing, the 2020 reprint edition of Space Is The Place brings Sun Ra into the 21st century. A lengthy new preface considers the musician's life within the context of Afrofuturism and the current state of race politics.
****
"One of the great jazz biographies."
—The Guardian
"The achievement of this biography is that it carefully articulates Ra's views of life and art at the same time that it provides hard data and analysis to locate his theories in historical context. . . . [Ra's] story is told with brilliance and grace in this deeply simpatico biography."
—Washington Post
"Szwed reveals the breadth and depth of Sun Ra. . . . It's more than a biography. Reading this book, like encountering Nietzsche or Zen, can make you rethink everything."
—L.A. Weekly
"One of the best books ever written about anything."
—The Idler
"Quite possibly the most inspirational music biography ever written – Essential."
—Muzik
****
John Szwed is Adjunct Senior Research Scholar in the Center for Jazz Studies at Columbia University. He is the former John M. Musser Professor of Anthropology, African American Studies, and Film Studies at Yale University. He has authored or edited 18 books, including the highly acclaimed Billie Holiday: The Musician And The Myth (Viking 2015), Alan Lomax: The Man Who Recorded The World (Viking 2010), and Jazz 101: A Complete Guide To Learning And Loving Jazz (Hyperion 2000). Szwed's writing has appeared in the New York Times, the Washington Post, the Village Voice, and many other publications. He has received fellowships from the John M. Guggenheim Foundation and the Rockefeller Foundation. Szwed has produced several recordings and has appeared in a number of documentaries and television specials. As a jazz musician, he played the bass and trombone professionally for over a decade. He received his Ph.D. in Anthropology from Ohio State University and lives in Philadelphia.