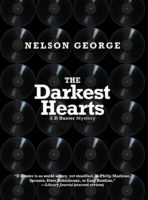 The Darkest Hearts: A D Hunter Mystery
By Nelson George
(Akashic Books, August 2020)
In the fifth book of Nelson George's D Hunter mystery series, the eponymous former bodyguard has moved full-time to Los Angeles, becoming a talent manager and trying to put his past in New York City behind him. Business is good for D Hunter: he has signed a hot Atlanta rapper named Lil Daye for management and negotiated a huge endorsement for Daye with a liquor brand. It's a big payday for both of them.
Along the way, D finds out that Samuel Kurtz, the liquor company's CEO, has some unsavory sexual habits and deeply reactionary political views. D worries that he has sold his soul and wonders what to do about it. Back in Brooklyn, a body has been found in the waters near the Canarsie Pier, a body that connects D and the retired hit man Ice to incidents from back in The Plot Against Hip Hop, the second book in the series. Because of this discovery, an FBI agent wants to speak to D, which is making Ice nervous. And Ice is not a man you want worrying about you.
Meanwhile in London, Serene Powers, a vigilante and sometimes collaborator with D, breaks up a human trafficking ring. In the process, she makes some new, unlikely allies. When Serene returns to the US, D asks her for assistance with a sensitive and volatile matter in Atlanta involving Lil Daye, his wife, his mistress, and a thug on his payroll named Ant.
The Darkest Hearts is a crime-fiction novel that reflects the challenges of being a black businessperson in an era when the rules of entrepreneurship are constantly shifting due to technological advancements and an increasingly polarized political environment.
****
"This action-packed crime novel both educates and entertains."
—Publishers Weekly
"Thoroughly satisfying reading."
—Booklist
"A showcase of different approaches to values, business, and hip-hop seen through a lens that feels personal."
—Kirkus Reviews
"Once again, my brother Nelson George comes through in the clutch like he's batting clean-up. I've known Nelson over 30 years and he has been our cultural storyteller for that length of time. Keep telling. Keep writing our stories. I know I will keep reading them too."
—Spike Lee
****
Nelson George is an award-winning author, filmmaker, television producer and critic with a long career in analyzing and presenting diverse elements of African American culture. His books have been nominated for the National Book Critics Circle Award and the Before Columbus Foundation. As a filmmaker, George was a producer on the Emmy Award-winning The Chris Rock Show (HBO) and directed Queen Latifah to a Golden Globe in the HBO film Life Support, which he also co-wrote. He was also a writer/producer on The Get Down (Netflix), which ran from 2016-2017. Currently, he is working as an executive producer on a documentary series about Tupac Shakur being directed by Allen Hughes. He is based in New York City and Los Angeles.