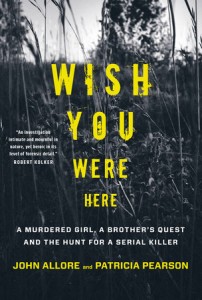 Wish You Were Here: A Murdered Girl, a Brother's Quest and the Hunt for a Serial Killer
By John Allore and Patricia Pearson
(Random House Canada, September 2020)
• A Toronto Star National Bestseller
As compelling as Michelle McNamara's I'll Be Gone in the Dark or Stevie Cameron's On the Farm, Wish You Were Here is the story of a brother's lifelong determination to find the truth about his sister's death, a police force that was ignoring the cases of missing and murdered women, and, to the surprise of everyone involved, a previously undiscovered serial killer.
In the fall of 1978 teenager Theresa Allore went missing near Sherbrooke, Quebec. She wasn't seen again until the spring thaw revealed her body in a creek only a few kilometers away. Shrugging off her death as a result of 1970s drug culture, police didn't investigate.
Patricia Pearson started dating Theresa's brother, John, during the aftermath of Theresa's death. Though the two teens would soon go their separate ways, the family's grief, obsession with justice and desire for the truth never left Patricia. Little did she know, the shockwaves of Theresa's death would return to her life repeatedly over the next 40 years.
In 2001, John had just moved to Chapel Hill, North Carolina, with his wife and young children, when the cops came to the door. They had determined that a young girl had been murdered and buried in the basement. John wondered: if these cops could look for this young girl, why had nobody even tried to find out what happened to Theresa? Unable to rest without closure, he reached out to Patricia, by now an accomplished crime journalist and author, and together they found answers far bigger and more alarming than they could have imagined—and a legacy of violence that refused to end.
****
"Wish You Were Here is at once a riveting mystery, an astute analysis of sexual violence, an investigation of a police force and a study in grief and loss. On all levels it succeeds brilliantly. An engrossing, heartbreaking and necessary book."
—Don Gillmour, author of The River, winner of the 2019 Governor-Generals Award
"Wish You Were Here is an investigation intimate and mournful in nature, yet heroic in its level of forensic detail. By bearing witness to how a malefactor slips through the cracks of a haphazard, morally bankrupt system, infected by misogyny and cronyism—and how the legacy of that injustice connects to further calamity—the brave authors take back some of what is lost, bringing some measure of justice to an unending spiral of tragedy."
—Bob Kolker, author of Lost Girls and Hidden Valley Road
"Infuriating, gripping and devastating, Wish You Were Here is…a heartfelt memorial to Theresa, and a testament to her family, who have never stopped seeking justice for her and many others who were stolen."
—Jessica McDiarmid, author of Highway of Tears: A True Story of Racism, Indifference and the Pursuit of Justice
****
John Allore is the creator and host of the podcast Who Killed Theresa, which concentrates on unsolved murders in Quebec, and other criminal and social-justice issues. He launched one of the first crime blogs, and the website theresaallore.com not only documents the search for his sister's killer but a trove of information on other unsolved cases in Canada and the US. He's created a database for all such cases in Canada that uses software to identify clusters and serial predator patterns. He lives with his family in Chapel Hill, North Carolina.
Patricia Pearson is an award-winning author and the recipient of three Canadian National Magazine Awards, the Arthur Ellis Award for best Canadian nonfiction crime writing, and a North American Travel Journalism Association award. Her work has appeared in The New Yorker, Toronto Life, Reader's Digest, the Toronto Star, National Post, The Guardian, the New York Times, More, the Globe and Mail, The Daily Telegraph, Business Week, NPR, CBC Television, The History Channel, and TV Ontario, among many others. In 2003, she was a finalist for the Stephen Leacock Memorial Medal for Humour, Canada's version of the Mark Twain prize.