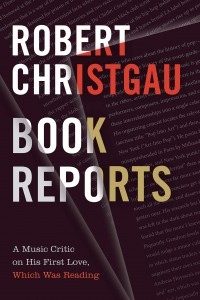 Book Reports: A Music Critic on His First Love, Which Was Reading
By Robert Christgau
(Duke University Press, April 2019)
"Together, these collections [Book Reports and Is It Still Good to Ya?] make the sneaky case that Christgau is not just the Dean of American Rock Critics…but one of America's sharper public intellectuals of the past half century, and certainly one of its most influential—not to mention one of the better stylists in that cohort…. Christgau's best work is in his essays."
—The New Yorker
In this generous collection of book reviews and literary essays, legendary Village Voice rock critic Robert Christgau showcases the passion that made him a critic—his love for the written word. Many selections address music from blackface minstrelsy to punk and hip-hop, artists from Lead Belly to Patti Smith, and fellow critics from Ellen Willis and Lester Bangs to Nelson George and Jessica Hopper. But Book Reports also teases out the popular in the Bible and 1984 as well as pornography and science fiction, and analyzes at length the cultural theory of Raymond Williams, the detective novels of Walter Mosley, the history of bohemia, and the 2008 financial crisis. It establishes Christgau as not just the Dean of American Rock Critics, but one of America's most insightful cultural critics as well.
****
"[A] substantial collection of nearly 100 eclectic, thought-provoking, and idea-laden book reviews. . . . [Christgau's] range of topics is impressive, and his references are prolific. These sprightly, highly opinionated 'adventures of an autodidact' reveal Christgau to be a highly literate, astute, and discerning book critic."
—Kirkus Reviews
"There are few critics working today with the life-long commitment, focus, and curiosity of Robert Christgau. Book Reports doesn't scan the over half-century of the man's work, and that's what makes it all the more impressive. He's still searching, still pulling volumes from the shelves, looking at new or old ideas, cracking open the spines of preconceived notions all in the service of taking just one more look before walking away with the promise of yet another return."
—Popmatters
"Robert Christgau, writing on books, is enthralling and energetic, and as persuasive and argument-sparking as he is on records. He sees them both as entrances into a thousand subject matters, but also as formal objects—that's to say, books. His stock is his comprehensive confidence, no matter the arena; so often, as declaring The Country and the City to be Raymond Williams's essential book—he's stunningly right. Book Reports made me glance at my shelf longingly where a run of compilations of his 'Consumer Guides: Books of the '70s, '80s, '90s' (and beyond) might sit, but alas. If we're not that lucky, we're lucky enough to have this generous compendium of his longer-form stuff."
—Jonathan Lethem
"You hope any book you read would be insightful, funny, rude, deeply researched, and filled with humanity. Well most books don't have those qualities, but all of Robert Christgau's book reviews do."
—Nelson George
****
Robert Christgau has been a rock critic since 1967. A longtime senior editor and chief music critic at The Village Voice, he has written for The New York Times, The New Yorker, Esquire, Playboy, Rolling Stone, and Blender. He is currently a contributor at BarnesandNoble.com, and his record blog Expert Witness appears every Friday at Noisey. A recipient of a Guggenheim Fellowship, an NAJP senior fellowship at Columbia University, and a Ferris Teaching Fellowship at Princeton, he taught at NYU's Clive Davis Institute of Recorded Music from 2005 to 2016. He lives in New York City.