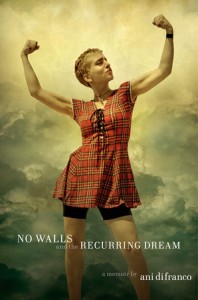 No Walls and the Recurring Dream
By Ani DiFranco
(Viking, May 2019)
• A New York Times Bestseller
In her new memoir, No Walls and the Recurring Dream, Ani DiFranco recounts her early life from a place of hard-won wisdom, combining personal expression, the power of music, feminism, political activism, storytelling, philanthropy, entrepreneurship, and much more into an inspiring whole. In these frank, honest, passionate, and often funny pages is the tale of one woman's eventful and radical journey to the age of thirty. Ani's coming of age story is defined by her ethos of fierce independence—from being an emancipated minor sleeping in a Buffalo bus station, to unwaveringly building a career through appearances at small clubs and festivals, to releasing her first album at the age of 18, to consciously rejecting the mainstream recording industry and creating her own label, Righteous Babe Records.
In these pages, as in life, she never hesitates to question established rules and expectations, maintaining a level of artistic integrity that has inspired and challenged more than a few. Ani continues to be a major touring and recording artist as well as a celebrated activist and feminist, standing as living proof that you can overcome all personal and societal obstacles to be who you are and follow your dreams.
****
"[P]art feminist and social-justice manifesto, part bracing road story…. [A] deep and thoughtful current runs throughout DiFranco's memoir."
—The Washington Post
"No Walls and the Recurring Dream is unapologetic, steadfast and vulnerable."
—Associated Press
"DiFranco is a natural storyteller, infusing these pages—with their frequent offbeat anecdotes, unusual characters, and significant episodes—with wit, humor, and perspective. . . . [She] has defied convention yet remained true to herself. A must for her fans, this riveting, thought-provoking work will also appeal to anyone who enjoys a well-written autobiography."
—Library Journal, starred review
"[DiFranco] manages to shed new light on how a young, talented woman created enough momentum to slingshot herself beyond her town's suffocating gravitational pull and create an entirely new solar system, populated with an orbit of planets and moons of her own devising."
—Rolling Stone
****
Ani DiFranco is a Grammy Award-winning singer, multi-instrumentalist, poet, songwriter, activist, and businesswoman. She has released more than 20 albums, and is one of the first independent musicians to create her own label, Righteous Babe Records, www.righteousbabe.com (based in Buffalo, NY). She is widely known as an activist and feminist icon, and the Righteous Babe Foundation supports causes ranging from abortion rights to gay visibility. DiFranco has received eight Grammy Award nominations and won the Best Recording Package Grammy for the album Evolve in 2004. She received the Woody Guthrie Award, as well as the Woman of Courage Award by the National Organization of Women. She is based in New Orleans.