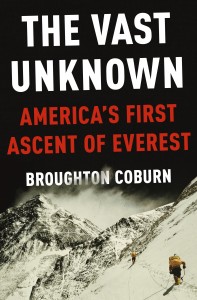 The Vast Unknown: America's First Ascent of Everest by Broughton Coburn (Crown)
Fifty years after the greatest climb in American history, this remarkable story of men and mountain is told in full.
From the bestselling author of Everest: Mountain Without Mercy, The Vast Unknown is a riveting chronicle of the iconic first American expedition to Mt. Everest in May 1963.
"A sweeping account of the first American visitors to Mount Everest's peak… Coburn's unhurried, character-driven narrative pays scrupulous attention to the climb's every detail and to Everest's majestic natural history… An exhilarating slice of American adventure-sporting history."
—Kirkus
"Coburn brings this exciting chapter of American mountaineering history to life."
—Library Journal
"Gripping… Not just another book about mountain climbing, this is also a story of America in the early 1960s."
—Booklist
"Broughton Coburn has written a book to renew our faith in what it means to believe in each other, and in ourselves. This is what it looked like when ordinary men of extraordinary courage and self-discipline worked through tragedy, dissent, and hardship not for individual glory but toward a common goal. When were we last this self-effacing, this optimistic, this outrageously can-do? A compulsively entertaining read."
—Alexandra Fuller, author of Cocktail Hour Under the Tree of Forgetfulness
"This book is like a time capsule from the Cold War, showing how in 1963, a bunch of crazy American mountaineers embarked on a plan to ascend via the never-before-summited west ridge, while racing a Chinese group to the top."
—Sacramento Bee