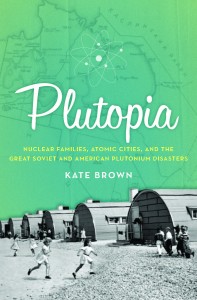 Plutopia: Nuclear Families, Atomic Cities, and the Great Soviet and American Plutonium Disasters by Kate Brown (Oxford University Press)
Plutopia won the the 2014 George Perkins Marsh Prize from the American Society for Environmental History (ASEH) and the 2014 Ellis W. Hawley Prize from the Organization of American Historians (OAH).
In the aftermath of WWII and at the height of the Cold War frenzy, both the United States and Russia built plutonium plants around "model cities," whose citizens were carefully selected and monitored by heavy security to work in these plants and produce plutonium as quickly as possible. In the U.S. it was the Hanford nuclear facility in Washington state and the Russian counterpart — modeled on Hanford — was the Maiak plant in the southern Urals. In over 40 years of operation they each invisibly issued 200 million curies of radioactive isotopes into the environment, endangering not only these model citizens who became sick from radioactivity, but also the rivers, fields and forests surrounding the towns making the areas uninhabitable. Kate Brown — author and academic — has been working for over five years on this untold story and Plutopia is the first book to narrate the history of these disasters in tandem. Brown speaks Russian and other related languages fluently and is the first journalist to get the Russians to relate their experiences in their own words; this, along with her first-hand observations of both areas, access to previously untouched archives and the stories of the Americans results in a powerful narrative and major work.
"Turning up a surprising amount of hitherto hidden material and talkative survivors, Brown (History/Univ. of Maryland, Baltimore County; A Biography of No Place: From Ethnic Borderland to Soviet Heartland, 2005) writes a vivid, often hair-raising history of the great plutonium factories and the privileged cities built around them. … An angry but fascinating account of negligence, incompetence and injustice justified (as it still is) in the name of national security."
—Kirkus (starred review)
"An unflinching and chilling account."
—Seattle Times
"Harrowing… Meticulously researched… Plutopia has important messages for those managing today's nuclear facilities, arguing for caution and transparency."
—Nature
"One of the Cold War's more striking perversities never made it to public view. … Brown is a good writer, and she describes with precision the construction of the two sites (a difficult process in the U.S. case, an unbelievably horrid one in the Russian case), the hazardous occupations undertaken by their inhabitants, and the consciously contrived bubbles of socioeconomic inequality both places became."
—Foreign Affairs
"Brown's account is unique, partisan and occasionally personal in that she includes some of her thoughts about interviews she conducted… But because she is open and thorough about her sources, those are strengths to be celebrated, not weaknesses to be deplored. It also means her book is engaging, honest and, in the end, entirely credible."
—New Scientist
"Kate Brown has written a provocative and original study of two cities — one American, one Soviet — at the center of their countries' nuclear weapons complexes. The striking parallels she finds between them help us — impel us — to see the Cold War in a new light. Plutopia will be much discussed. It is a fascinating and important book."
—David Holloway, author of Stalin and the Bomb
"Kate Brown has produced a novel and arresting account of the consequences of Cold War Nuclear policies on both sides of the Iron Curtain. Interweaving documentary research in government archives, reviews and revisions of the public record, and a host of personal interviews with the citizens — perpetrators, victims, and witnesses — Brown's Plutopia makes a lasting contribution to the continuing chronicle of the human and environmental disasters of the atomic age."
—Peter Bacon Hales, author of Atomic Spaces: Living on the Manhattan Project