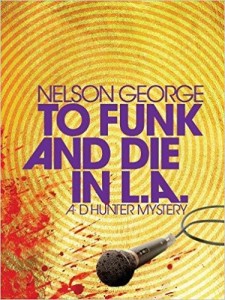 To Funk and Die in L.A.: A D Hunter Mystery
by Nelson George
To Funk and Die in LA, the fourth book in the D Hunter crime-fiction series, brings the ex-bodyguard to the City of Angels on a very dark mission when his grandfather, businessman Daniel "Big Danny" Hunter, is shot dead in a drive-by. Why would someone execute a grocery store owner? D soon finds there was more to Big Danny's life than selling loaves of bread. The old man, it turns out, was deeply involved with Dr. Funk, a legendary musical innovator who has become a mysterious recluse.
Most of the novel takes place in the LA neighborhoods of Crenshaw, Koreatown, and Pico-Union–areas where black, Asian, and Latino cultures intersect away from the glamour of Hollywood–and echoes of the 1992 riots play a significant role in D's investigation. In the tradition of Raymond Chandler and Walter Mosley, D Hunter rides through the mean streets of Los Angeles seeking truth and not always finding justice.
"Ex-bodyguard D Hunter travels from Brooklyn to Los Angeles to investigate the circumstances surrounding his grandfather's murder in the fourth entry in this series by critic and journalist George…read this for its passionate and unresolved argument about the still-beating heart of R&B."
—Kirkus Reviews
"To Funk and Die in LA is a supercharged spin through the dynamic, ever-changing neighborhoods of urban LA. Nelson George's new book is full of music, secrets, heart, and more than a little heartbreak."
–Nina Revoyr, author of Southland
"Inventive and well-written…I really enjoyed To Funk and Die in LA."
–Don Winslow, author of Savages
Praise for the D Hunter Series:
"D Hunter is as world weary, yet steadfast, as Philip Marlowe, Spenser, Dave Robicheaux, or Easy Rawlins."
—Library Journal (starred review, Pick of the Month)
"Written in the spirit of authors such as Walter Mosley and Donald Goines…The book blends music from the past with thug appeal of the present to appeal to young and old alike."
—Baltimore Times, on The Lost Treasures of R&B
Nelson George is an author, filmmaker, and lifelong resident of Brooklyn. His books include the first three novels in his D Hunter mystery series, The Accidental Hunter, The Plot Against Hip Hip, and The Lost Treasures of R&B. Among his many nonfiction works are The Death of Rhythm & Blues, Hip Hop America, and The Hippest Trip in America: Soul Train and the Evolution of Culture & Style. As a filmmaker he has directed the documentaries Brooklyn Boheme, Finding the Funk, and A Ballerina's Tale. He is also a writer/producer on the Netflix series The Get Down.