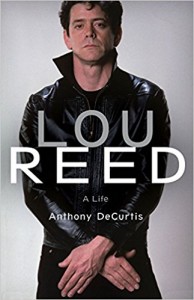 LOU REED: A Life
by Anthony DeCurtis
The essential biography of one of music's most influential icons: Lou Reed
As lead singer and songwriter for the Velvet Underground and a renowned solo artist, Lou Reed invented alternative rock. His music, at once a source of transcendent beauty and coruscating noise, violated all definitions of genre while speaking to millions of fans and inspiring generations of musicians.
But while his iconic status may be fixed, the man himself was anything but. Lou Reed's life was a transformer's odyssey. Eternally restless and endlessly hungry for new experiences, Reed reinvented his persona, his sound, even his sexuality time and again. A man of contradictions and extremes, he was fiercely independent yet afraid of being alone, artistically fearless yet deeply paranoid, eager for commercial success yet disdainful of his own triumphs. Channeling his jagged energy and literary sensibility into classic songs – like "Walk on the Wild Side" and "Sweet Jane" – and radically experimental albums alike, Reed remained desperately true to his artistic vision, wherever it led him.
Now, just a few years after Reed's death, Rolling Stone writer Anthony DeCurtis, who knew Reed and interviewed him extensively, tells the provocative story of his complex and chameleonic life. With unparalleled access to dozens of Reed's friends, family, and collaborators, DeCurtis tracks Reed's five-decade career through the accounts of those who knew him and through Reed's most revealing testimony, his music. We travel deep into his defiantly subterranean world, enter the studio as the Velvet Underground record their groundbreaking work, and revel in Reed's relationships with such legendary figures as Andy Warhol, David Bowie, and Laurie Anderson. Gritty, intimate, and unflinching, Lou Reed is an illuminating tribute to one of the most incendiary artists of our time.
"Lou Reed is Lou Reed!" ― Iggy Pop 
"I am personally familiar with the depth, seriousness, and sensitivity of Anthony DeCurtis's writing, and, of course, knew Lou Reed and felt the impact of his coruscating work. A brilliant artist has found a biographer with the insight to, as Lou said, 'pass through the fire' and be a definitive interpreter of both his music and his life." ― Sting 
"Anthony DeCurtis was one of the few music critics Lou Reed read and whose company he enjoyed. After reading this sublime and subtle book, the mystery of Lou's respect for Anthony is revealed. Anthony is a great story teller, a writer's writer, turning pain into beauty the way Lou did in his songs." ― Bono
"The book is a well-written, valuable document of a major figure in the American rock scene, putting a human face on a man who often seemed impossibly remote. Essential reading for Reed fans and strongly recommended for anyone interested in rock as art." ― Kirkus Reviews (starred review)
"When most people think of Lou Reed, they picture the black, rotting heart of rock and roll, full of dissonance, decadence and decay. But as Anthony DeCurtis makes clear in his new book, behind the image and the rumors, Lou was one thing: a writer, a man who spent his life telling the absolute, painful truth in his songs – the truth about himself, the scenes he observed, and the world at large. His words were so powerful that the Velvet Underground had to invent a new musical language to match them. I'm not the first musician to pledge allegiance to Lou and the Velvets, and I won't be the last. Read this book, and explore the f*cking genius that was Lou Reed."―Peter Buck, co-founder and lead guitarist of R.E.M.
"Anthony DeCurtis captures the soul and the essence of Lou Reed in his terrific new biography of the brilliant, culture-shaping musician. DeCurtis' great gift of storytelling gives fascinating insight and perspective to Reed's complex personality and cutting-edge musical talent. This is a must read."― Clive Davis 
"How did a middle-class suburban boy grow up to be king of Manhattan's wild side? Thanks to this groundbreaking biography, now we know. Anthony DeCurtis handles Reed's often-misunderstood bisexuality and curiosity about transsexualism with particular sensitivity, candor, and sophistication. A must-read for fans of rock and roll, New York City, or sex."―Ada Calhoun, author of St. Marks Is Dead
"An eloquent account of a harrowing life transformed by love in the end. Anthony DeCurtis does a brilliant job of synthesizing the disparate parts of Lou Reed's life into an insightful, moving narrative. I highly recommend it."―Suzanne Vega
"Lou Reed was one of music's most brilliant and complicated figures-an explorer, a provocateur, and always a true artist. With grace and grit, Anthony DeCurtis has delivered a revelatory and insightful chronicle of this most challenging rock & roll icon, and Lou Reed gets the biographer he deserves."― Alan Light, author of The Holy or the Broken
"DeCurtis gives Reed's life its due… He presents a balanced consideration of Reed, spending equal time on the totality of his music and not just the well-known highlights, detailing the recording of specific albums and lyrics and their meaning and place in Reed's life at the time. Reed's art (and life) were often groundbreaking, occasionally maddening, and consistently fascinating, and this volume captures all of those aspects….a thorough portrait of a man who profoundly influenced rock." – Library Journal (starred review)
Anthony DeCurtis is a contributing editor for Rolling Stone, where his work has appeared for more than thirty-five years, and a distinguished lecturer in the creative writing program at the University of Pennsylvania. He is the author of In Other Words and Rocking My Life Away and the cowriter of Clive Davis's autobiography, The Soundtrack of My Life, a New York Times bestseller. DeCurtis is a Grammy Award winner and has served as a member of the Rock & Roll Hall of Fame nominating committee for twenty-five years. He holds a PhD in American literature and lives in New York City.