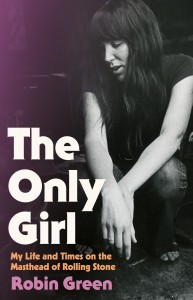 The Only Girl: My Life and Times on the Masthead of Rolling Stone
by Robin Green
(Little Brown August 2018)
"A funny, frank, powerful and ultimately moving memoir by an extraordinary writer who didn't merely roll with the Zeitgeist but remade it in her own image."
–T. C. Boyle
A raucous and vividly dishy memoir of Robin Green's sharp ascent from being hired at Rolling Stone to writing cover stories and being the only woman on the masthead in the first years of the magazine's existence. THE ONLY GIRL is a hilarious yet biting account of working in journalism during the tumultuous late-'60s and early '70s, and about coming of age as a woman in the midst of it.
During her time at Rolling Stone, Robin Green wrote iconic pieces on Marvel comics, California Cults, Hollywood, and the Kennedy family. She was also a trailblazing figure at the magazine, finding her voice as a female journalist. Her story powerfully resonates with current conversations about the gonzo male atmosphere of much of media and entertainment, and the desire for other sides of the story to be told.
"Robin has written a frank, witty and loving memoir growing up in the milieu of the seventies at Rolling Stone. Her honesty and insight brought all those times back, some of RS's wildest and wackiest early days." –Jann Wenner, co-founder and publisher of Rolling Stone
"Compulsively readable, laugh out loud funny and beautifully crafted. I ate up every word. If you thought they had more fun back then, this book will prove that you were right."
–Ruth Reichl, bestselling author of My Kitchen Year
Robin Green is a TV writer/producer known for her work as a producer and writer for The Sopranos on HBO. She is also known for creating, with her husband Mitchell Burgess, the CBS drama Blue Bloods, now in its seventh season, and the show Northern Exposure. She has won four Emmys, as well as several Golden Globes, two Peabodys and a Writers Guild Award, with many nominations for Emmys and WGA awards. She has been an editor at Rolling Stone and California Magazine, and has written for The Boston Real Paper, City Magazine of San Francisco, Ms. Magazine, and The L.A. Times, among others. She holds an MFA in fiction from the Iowa Writers' Workshop, and regularly lectures and speaks on panels across the country. She is based in New York City.