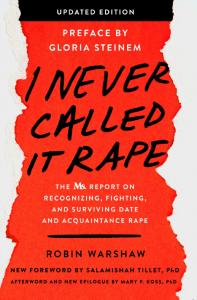 I Never Called It Rape: The Ms. Report on Recognizing, Fighting and Surviving Date and Acquaintance Rape
By Robin Warshaw
(HarperCollins, February 2019)
Featuring a new preface by feminist icon Gloria Steinem, and a new foreword by Salamishah Tillet, PhD, Rutgers University Professor of African American Studies and Creative Writing.
With the advent of the #METOO and Time's Up movements, and almost daily new reports about rape, both on and off campuses, Robin Warshaw's I Never Called It Rape is even more relevant today than when it was first published in 1988. The sad truth is that statistics on date rape have not changed in more than thirty years. That our culture enables rape is not just shown by the numbers: the outbreak of complaints against alleged rapists from Bill Cosby and Harvey Weinstein to Matt Lauer and President Donald Trump has furthered amplified this horrifying reality.
With more than 80,000 copies sold to date, I Never Called It Rape serves as a guide to understanding rape as a cultural phenomenon—providing women and men with strategies to address our rape endemic. It gives survivors the context and resources to help them heal from their experiences, and pulls the wool from all our eyes regarding the pervasiveness of rape and sexual assault in our society.
****
"Essential . . . It is nonpolemical, lucid, and speaks eloquently not only to the victims of acquaintance rape but to all those caught in its net."
–Philadelphia Inquirer
"Painstakingly researched . . . chilling."
–San Francisco Chronicle
"Provocative and important."
–Kirkus Reviews
****
Robin Warshaw is a writer, ghostwriter and editor specializing in medicine, health, social issues and higher education. Her book, I Never Called It Rape: The Ms. Report on Recognizing, Fighting and Surviving Date and Acquaintance Rape (HarperCollins) was first published in 1988, with a second edition in 1994. She is a member of the Authors Guild, the American Society of Journalists and Authors (ASJA), Association of Health Care Journalists (AHCJ) and National Association of Science Writers (NASW).