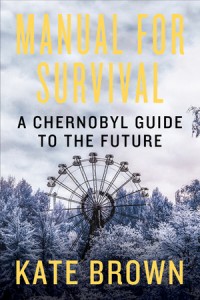 Manual For Survival: A Chernobyl Guide to the Future
By Kate Brown
(W.W. Norton, March 2019)
A chilling exposé of the international effort to minimize the health and environmental consequences of nuclear radiation in the wake of Chernobyl.
Governments and journalists tell us that though Chernobyl was "the worst nuclear disaster in history," a reassuringly small number of people died (44), and nature recovered. Yet, drawing on a decade of fine-grained archival research and interviews in Ukraine, Russia, and Belarus, Kate Brown uncovers a much more disturbing story—one in which radioactive isotypes caused hundreds of thousands of casualties.
Scores of Soviet scientists, bureaucrats, and civilians documented stunning increases in cases of birth defects, child mortality, cancers, and a multitude of prosaic diseases, which they linked to Chernobyl. Worried that this evidence would blow the lid on the effects of massive radiation release from weapons testing during the Cold War, international scientists and diplomats tried to bury or discredit it. A haunting revelation of how political exigencies shape responses to disaster, Manual For Survival makes clear the irreversible impact on every living thing not just from Chernobyl, but from eight decades of radiation from nuclear energy and weaponry.
****
"Kate Brown presents a convincing challenge to the official narrative of the Chernobyl disaster. Deeply reported and elegantly written, Manual for Survival is chilling."
–Elizabeth Kolbert, New Yorker staff writer and author of The Sixth Extinction.
"Manual For Survival is a remarkable book, distinguished by Kate Brown's rare combination of skills: formidable archival history, investigative research, and vivid storytelling. This is a book about even bigger subjects than the disaster at its core, however: about how politics processes disaster, about the unseen legacies of the 'friendly atom', and about the Anthropocene futures faced by the human species, surviving in an epoch of ruin."
–Robert MacFarlane
****
Kate Brown is an award-winning historian of environmental and nuclear history, fluent in Russian, Ukrainian, Polish, and German. She is the author of Plutopia: Nuclear Families in Atomic Cities and the Great Soviet and American Plutonium Disasters (Oxford 2013). Brown's most recent book Dispatches from Dystopia: History of Places Not Yet Forgotten was published by University of Chicago Press in 2015. Brown is the recipient of many fellowships, including from the John D. Guggenheim Foundation and the National Endowment for Humanities. Her Chernobyl research has been funded by the American Academy in Berlin, the ACLS, and a 2016-18 Carnegie Fellowship. She is based in Washington, DC, and is a Professor of History at the University of Maryland, Baltimore County.