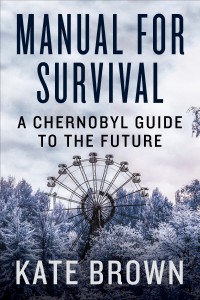 Manual For Survival: A Chernobyl Guide to the Future
By Kate Brown
(W.W. Norton, March 2019)
A chilling exposé of the international effort to minimize the health and environmental consequences of nuclear radiation in the wake of Chernobyl.
Governments and journalists tell us that though Chernobyl was "the worst nuclear disaster in history," a reassuringly small number of people died (44), and nature recovered. Yet, drawing on a decade of fine-grained archival research and interviews in Ukraine, Russia, and Belarus, Kate Brown uncovers a much more disturbing story—one in which radioactive isotypes caused hundreds of thousands of casualties.
Scores of Soviet scientists, bureaucrats, and civilians documented stunning increases in cases of birth defects, child mortality, cancers, and a multitude of prosaic diseases, which they linked to Chernobyl. Worried that this evidence would blow the lid on the effects of massive radiation release from weapons testing during the Cold War, international scientists and diplomats tried to bury or discredit it. A haunting revelation of how political exigencies shape responses to disaster, Manual For Survival makes clear the irreversible impact on every living thing not just from Chernobyl, but from eight decades of radiation from nuclear energy and weaponry.
****
"With bountiful, devastating detail, Brown describes how doctors, scientists, and journalists—mainly in Ukraine and Belarus—went to great lengths and took substantial risks to collect information…. Radiation has a special hold on our imagination…. But Manual for Survival asks a larger question about how humans will coexist with the ever-increasing quantities of toxins and pollutants that we introduce into our air, water, and soil. Brown's careful mapping of the path isotopes take is highly relevant."
—New York Review of Books
"Exemplary … Brown is an indomitable researcher."
—The Observer
"[A] troubling book, passionately written and deeply researched…the book moves from science to thriller and realm of conspiracy… there is no doubt about Brown's gift for vivid narrative. Her conclusion is chilling."
—Sunday Times
Astonishingly thorough…. [a] revelatory masterpiece."
—Orion
****
Kate Brown is a Professor of Science, Technology and Society at the Massachusetts Institute of Technology. She is the recipient of many fellowships, including those from the John D. Guggenheim Foundation, the Carnegie Corporation of New York, and the National Endowment for the Humanities, and her books have won many prizes, including the American Historical Association's George Louis Beer Prize for the Best Book in International European History and their Dunning and Beveridge prizes.