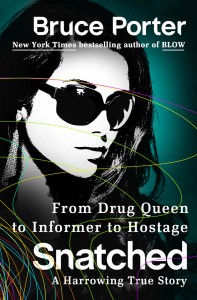 Raised an aristocrat in Colombia and educated in European schools, Pilar transfixes everyone with her charm and her guile. She also falls for dangerous men and finds herself drawn into the highest levels of the cocaine trade.
After two failed marriages and a harrowing escape from the drug life, she settles down to a quiet existence in Florida with her children–until her second husband tries to cut short his prison term by giving her name over to members of a new task force being formed by the DEA. They induce Pilar, now a middle-aged woman, to infiltrate the Cali cartel as the head of a vast money laundering sting.
Named "Operation Princess," the scheme leads to the seizure of tens of millions of dollars, along with some $500 million worth of cocaine and the exposure of hundreds of high-level traffickers, becoming one of the most daring and successful stings in DEA history.
But Pilar plays her part too well. Her success as a money launderer gets her kidnapped and then ransomed by a band of guerrillas in South America–and the US government refuses to negotiate. It's left to her low-level handlers in the DEA to get her back, before it's too late and her kidnappers discover they have a federal agent in their clutches.
Snatched is the electric tale, by the New York Times bestselling author of Blow, Bruce Porter, that tells the true story of a woman caught between two worlds, with her life dangling in the balance.
"Fascinating look at the international drug trade. . . . In Porter's hands, Pilar's story will easily hook readers from start to finish; the book reads like an action-packed movie script." – Publishers Weekly
"An engaging, improbable true-crime tale that underscores the grandiose futility of the drug war." – Kirkus Reviews
"This amazing true story could have been written for the big screen. . . . the narrative races along like a film script. . . . this entertaining and sad story of a woman doing what she has to in order to protect her family will satisfy fans of Blow, Donnie Brasco, and true crime stories." – Library Journal
Bruce Porter is a former writer for Newsweek and a professor at the Columbia Journalism School who has written for the Washington Post, New York Times Magazine, Playboy, and Rolling Stone, as well as dozens of other magazines and newspapers. His first book, Blow, was a bestselling New York Times Notable Book and was made into a major motion picture. Bruce lives in New York City.