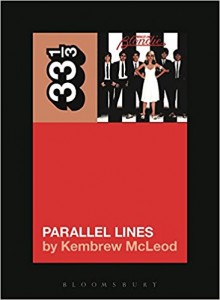 Blondie's Parallel Lines mixed punk, disco and radio-friendly FM rock with nostalgic influences from 1960s pop and girl group hits. This 1978 album kept one foot planted firmly in the past while remaining quite forward-looking, an impulse that can be heard in its electronic dance music hit "Heart of Glass." Bubblegum music maven Mike Chapman produced Parallel Lines, which was the first massive hit by a group from the CBGB punk underworld.By embracing the diversity of New York City's varied music scenes, Blondie embodied many of the tensions that played out at the time between fans of disco, punk, pop and mainstream rock.
Debbie Harry's campy glamor and sassy snarl shook up the rock 'n' roll boy's club during a growing backlash against the women's and gay liberation movements, which helped fuel the "disco sucks" battle cry in the late 1970s. Despite disco's roots in a queer, black and Latino underground scene that began in downtown New York, punk is usually celebrated by critics and scholars as the quintessential subculture. This book challenges the conventional wisdom that dismissed disco as fluffy prefab schlock while also recuperating punk's unhip pop influences, revealing how these two genres were more closely connected than most people assume. Even Blondie's album title, Parallel Lines, evokes the parallel development of punk and disco–along with their eventual crossover into the mainstream.
"An interesting thesis well made in this enjoyable addition to the 33 1/3 series." – International Times
"A neat snapshot of a time of revolution, reinvention and experimentation … [This book is] every bit as appetising as the album itself, and an astute, erudite examination of one of the greatest albums of all time." – Record Collector
"It's a rare treat when an author busts out a tightly researched agenda that totally flips your perspective on a record, a band, a scene, a genre, and an entire artistic era. Kembrew McLeod provides such a treat with this gloriously revisionist history, positing that Blondie and the core of the New York punk scene's early bands and aesthetics were a product of a wildly vital gay underground theater scene that flourished from the late 1960s to the early 1970s." – Charles Aaron, MTV News
"There's a little book I've been devouring on the subway this past week or two: Blondie's Parallel Lines by Kembrew McLeod. It has had me tracing and re-tracing connections all over the place, re-examining my own assumptions about my own evolving musical tastes and cultural assumptions from the time of my first transistor radio … Refreshing." – One Flew East
Kembrew McLeod is a Professor of Communication Studies at the University of Iowa. He has published and produced several books and documentaries about music and popular culture, and his writing has appeared in the New York Times, Los Angeles Times, Washington Post, Slate, Salon, SPIN, MOJO and Rolling Stone. Kembrew's documentary Copyright Criminalsaired on PBS's Emmy Award-winning Independent Lens series, his 2007 book Freedom of Expression® received an American Library Association book award, and his 2014 book Pranksters received a "Best of the Best Books You Should Know About" designation from the American Association of University Presses. He recently was awarded a National Endowment of the Humanities Public Scholar Fellowship to support his next book, The Pop Underground: Downtown New York in the Sixties and Seventies, From Warhol to Blondie, which builds on research done for his book on Blondie's Parallel Lines in Bloomsbury's 33 1/3 series. He is based in Iowa City.