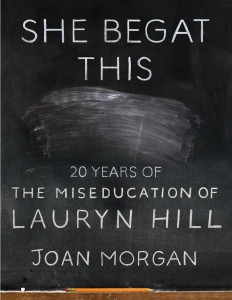 She Begat This: 20 Years of the Miseducation of Lauryn Hill
By Joan Morgan
(Simon & Schuster, August 2018)
Celebrate the twentieth anniversary of the acclaimed and influential debut album The Miseducation of Lauryn Hill with this eye-opening and moving exploration of Lauryn Hill and her remarkable artistic legacy.
Released in 1998, Lauryn Hill's first solo album is often cited by music critics as one of the most important recordings in modern history. Artists from Beyoncé to Nicki Minaj to Janelle Monáe have claimed it as an inspiration, and it was recently included in the National Recording Registry by the Library of Congress, as well as named the second greatest album by a woman in history by NPR (right behind Joni Mitchell's Blue).
Award-winning feminist author and journalist Joan Morgan delivers an expansive, in-depth, and heartfelt analysis of the album and its enduring place in pop culture. She Begat This is both an indelible portrait of a magical moment when a young, fierce, and determined singer-rapper-songwriter made music history and a crucial work of scholarship, perfect for longtime hip-hop fans and a new generation of fans just discovering this album.
****
"Joan Morgan schools like no other. While reading this masterful, rich, and amazingly concise cultural history of the Nina-Simone-Defecating-On-Your-Microphone-Nineties, I learned two lessons. One, you cannot tell the story of Hip Hop or Black womanhood in the 1990s without a deep understanding of the prototype for Black Girl Genius that is Lauryn Hill. And two, you cannot tell the story of Hip Hop or Black womanhood in the 1990s without the fiya-spitting, Jamaican, Bronx-girl pen of Joan Morgan. Lauryn gave us the soundtrack, the artistry, and the permission. Joan and her crew of badass, pioneering Hip Hop journalists, many of whom are featured here, continue to give us the language and the frameworks to understand the singularity of turn-of-the-21st-century Black cultural production. Absent either of these Black girl geniuses, the story is incomplete. Indeed, she begat this."
—Brittany Cooper, author of Eloquent Rage: A Black Feminist Discovers Her Superpower
"Pioneer hip-hop feminist Joan Morgan takes on Lauryn Hill, the complicated star whose monumental album changed the world, and we finally get the loving, vibrant, critical attention the artist, her work, and her generation has been due. This book is a listening companion with attitude and a sure-shot conversation starter. You may never hear Ms. Hill the same again."
—Jeff Chang, author of We Gon' Be Alright: Notes on Race and Resegregation
"The dope shit always needs a remix, if only to be reminded of the brilliance of the original joint. And if you were on the scene back in '98, you knew it would be Joan Morgan who would remix The Miseducation of Lauryn Hill, because who else would it be but another Caribbean sister stepping in the world fly AF and with the gift of verse? Lauryn might have Begat This, but Joan Morgan is giving it back to us all lovely and new and as vital as it was that summer of '98."
—Mark Anthony Neal, Chair of the Department of African & African American Studies at Duke University
"With She Begat This, Joan Morgan brings the full lyrical prowess of her unstoppable flow and ferocious prose to tell the multilayered saga of Lauryn Hill's seminal masterpiece. Morgan serves up an intimate artistic portrait that is compassionate, unflinching, and imbued with the razor-sharp analysis and from-the-heart truth-telling that made her a legend of hip-hop journalism."
—Daniel José Older, New York Times bestselling author of Shadowshaper and Dactyl Hill Squad, winner of the International Latino Book Award
"A new book by Joan Morgan would be cause for celebration whether it was about Lauryn Hill, Bunker Hill, or ant hills. But for hip hop's founding feminist and most incisive critic to apply the force of her intellect, the power of her memory, and the dexterity of her cultural mixology to a record so fraught with meaning and misunderstanding makes me feel the way I did the first time I heard the needle drop on 'Lost Ones.' In fact, I'm dancing with one fist in the air as I write this."
—Adam Mansbach, #1 New York Times bestselling author
****
Joan Morgan is an author and cultural critic who coined the phrase "hip-hop feminism". Morgan has been a widely sought-after lecturer and commentator on hip-hop and feminism. An award-winning journalist, a provocative cultural critic, she began her professional writing career freelancing for The Village Voice and has been published by Vibe, Interview, Ms., More, Spin, and numerous others. Formerly the executive editor of Essence, she's currently a PhD candidate in American Studies at New York University and is based in New York City.