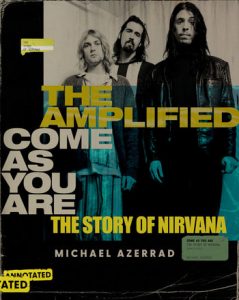 The Amplified Come As You Are: The Story of Nirvana
By Michael Azerrad
(HarperOne, October 2023)
A downright revolutionary 30th-anniversary deluxe edition of the iconic bestselling biography of Nirvana, updated with exclusive new content exploring the personal and cultural forces that inspired the music, the author's friendship with Kurt Cobain and why multiple generations remain fascinated by the 1990s.
"Just tell the truth. That'll be better than anything else that's been written about me."—Kurt Cobain to author Michael Azerrad
It has been three decades since Nirvana upended the pop cultural landscape with Nevermind, the landmark album that became the soundtrack of Generation X, capturing its confusion, frustration, and passion. In 1993, Michael Azerrad published what stands as the definitive biography of this revolutionary band and its star-crossed frontman Kurt Cobain. Written with the band's complete cooperation—the only book to feature interviews with Cobain, Krist Novoselic, and Dave Grohl—it became a massive bestseller, and in the words of Cobain, "the best rock book I've ever read."
Seven months after the book's original publication, Cobain was dead by suicide, making Come as You Are the only book-length record of the inner life and creative mind of one the most significant songwriters and musicians in rock history—a haunting and haunted artist whose influence continues powerfully to the present day.
Azerrad has revisited and reconsidered his original text. The result is this "amplified" version—a truly unique book within a book featuring extensive new essay-like annotations that deepen our understanding of this legendary band. Azerrad solves former mysteries, reinterprets the key players and the time, investigates depression and other psychic traumas, debunks myths and legends, and offers celebrations of that pivotal moment in the mid-1990s as he searches for the answer to the question: Why was this music so extraordinarily powerful?
Vivid, evocative, and thought-provoking, this gorgeous hardcover book—featuring more than 99 photos and ephemera—is an essential document not just for Nirvana fans but for anyone interested in the cultural legacy of the 1990s.
****
Michael Azerrad is a rock journalist, author and drummer. His writing has appeared in the New York Times, Rolling Stone, Mojo, Spin and the New Yorker. He frequently appears on television as a commentator on rock music and was most recently the editor-in-chief of the Talkhouse. He is the author of the books Come as You Are: The Story of Nirvana and Our Band Could Be Your Life: Scenes from the American Indie Underground 1981–1991.