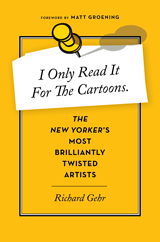 I Only Read It for the Cartoons : The New Yorker's Most Brilliantly Twisted Artists by Richard Gehr (New Harvest 2014)
Available for the first time to The New Yorker's one million-plus readers: a volume dedicated to the individual careers of the magazine's cartoon superstars.
Widely considered to be the pantheon of single-panel cartooning, The New Yorker cartoonists' styles are richly varied, and their personal stories are surprising. For example, did you know that Arnie Levin is a seventy-three-year-old former Beatnik painter with a handlebar mustache and a back decorated by Japan's foremost tattoo artists?
Gehr's book features fascinating biographical profiles of such artists as Gahan Wilson, Sam Gross, Roz Chast, Lee Lorenz, and Edward Koren. Along with a dozen such profiles, Gehr provides a brief history of The New Yorker cartoon itself, touching on the lives and work of earlier illustrating wits, including Charles Addams, James Thurber, and William Steig.
"Gehr is sure to delight any New Yorker fan with this look at the pantheon of cartoonists… the book, brimming with New Yorker history and the idiosyncrasies of its contributors, is successful at what it sets out to do—provide a first-of-its-kind paean to some of the magazine's most consistently popular contributors." —Publishers Weekly