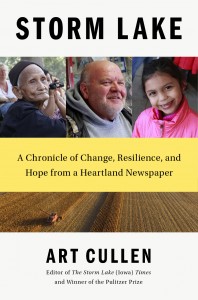 Storm Lake: A Chronicle of Change, Resilience, and Hope from a Heartland Newspaper
by Art Cullen
(Viking Books, October 2018)
When Art Cullen won the Pulitzer in editorial writing in 2017 for taking on big corporate agri-industry whose chemicals were poisoning the local groundwater, it was a coup on many counts: a strike for the wellbeing of a rural community, a triumph for that endangered species, a family-run weekly newspaper The Storm Lake Times, and a salute to the special talents of a fierce and formidable native son – Cullen.
In this candid and timely book, Cullen describes how rural America has changed dramatically over his career, as seen from the vantage point of a farming and meatpacking town of 15,000 in Northwest Iowa. Politics, agriculture, the environment, and immigration all feed into a book that also chronicles a resilient newspaper, as much a survivor as its town. Storm Lake may be a community in flux, occasionally in crisis (farming isn't for the faint hearted), but one that's not disappearing–in fact, its population is growing with immigrants from Laos, Mexico, and elsewhere. Thirty languages are now spoken there, and soccer is more popular than American football.
Storm Lake's people are the book's heart: The family that swam the Mekong River to find Storm Lake. The Latina with a baby who wonders if she'll be deported from the only home she has known. The farmer who watches markets in real time and tries to manage within a relentless agriculture supply chain that seeks efficiency for cheaper pork, prepared foods, and ethanol.
The world comes to Iowa's doorstep every four years for its influence in the presidential elections, and it plays an outsize role in national politics. Iowa introduced Barack Obama to the world stage in 2008 yet voted for Donald Trump in 2016. Why? Is it a bellwether for America? A nostalgic mirage, or a harbinger of America's (and the world's) future? Cullen's answer is complicated and honest–but with optimism and the stubbornness that is still the state's, and his, dominant quality.
"Read this book and you will understand why Art Cullen's courageous writing—sensitive, challenging, sometimes abrasive—helped build Storm Lake into, as Cullen phrases it, 'a community, not just an unrelated gathering of people.' Cullen captures, in prose that is almost poetry, the ethos of small town, rural Iowa, the heart and soul of the 'good America.'"—Tom Harkin, former United States Senator from Iowa
"Mechanization and chemistry may have driven out small farmers, smothered the lake, and helped push the town paper to the edge of starvation, but Storm Lake has persevered, clutching its social fabric against the forces that have torn so much of the rural plains asunder. If you care about the future of the Republic, Art Cullen's thoughtful, clear-eyed ode to his western Iowa hometown is not to be missed."—Colin Woodard, author of American Nations: A History of the Eleven Rival Regional Cultures of North America and American Character: A History of the Epic Struggle Between Individual Liberty and the Common Good
"Art Cullen does not believe in the notion of fly-over country. He knows that Storm Lake is place where hard working and community-minded people live, work and play. He believes strongly that Storm Lake is worth writing about and fighting for and you will too after reading Storm Lake."—Tom Vilsack, former Governor of Iowa
"Pulitzer Prize winner Art Cullen embodies what community journalism is all about, which is an understanding—even love—of place and people, a determination to make things better and the backbone to challenge powerful interests. Cullen knows Iowa and a lot more. This book will delight you and inform you and surprise you. It will also give you hope. At a time when press freedoms are threatened and facts are in dispute, it is good to know that Cullen and his compatriots are standing guard."—Dan Balz, Chief Correspondent of THe Washington Post and author of the New York Times bestseller Collision 2012
"This is a cry from the heart of the heartland, and it is for those people on the coasts who think nothing important happens in the middle of the country. In fact, everything important that is happening pretty much anywhere in the country happens there—right there, around Storm Lake, in Iowa." –John M. Barry, author of The Great Influenza and Rising Tide
Art Cullen is 50 percent of the ownership and 25 percent of the staff of the The Storm Lake Times (a family-owned weekly newspaper located in rural Storm Lake, Iowa) and winner of the 2017 Pulitzer Prize for Editorial writing for his columns taking on corporate agribusiness for fouling the town's water and soil. He was profiled by the New York Times, NPR, Katie Couric and many other places after winning. This is his first book.