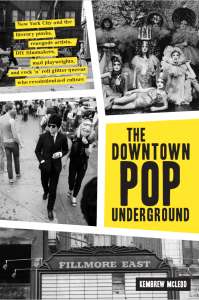 The Downtown Pop Underground: New York City and the literary punks, renegade artists, DIY filmmakers, mad playwrights, and rock 'n' roll glitter queens who revolutionized culture.
by Kembrew McLeod
(Abrams, October 2018)
The 1960s to early '70s was a pivotal time for American culture, and New York City was ground zero for some seismic shifts in music, theater, art, and filmmaking. In THE DOWNTOWN POP UNDERGROUND, cultural historian Kembrew McLeod takes the reader on a kaleidoscopic tour of the city, telling the story of the interconnections between the alternative music, theater, film, video, writing, fashion and art worlds that flowered in downtown New York. McLeod uses accounts of these artistic cross-pollinations to reveal an alternative history of recent pop culture.
Through interviews with the famous (Debbie Harry, Yoko Ono, Lily Tomlin) to lesser-known-but-essential offbeat artists, rule-breaking poets, gonzo filmmakers, rock and roll drag queens, McLeod shows how these outsiders reshaped the larger culture, and from downtown New York made waves on an international scale. Ambitious in scope and scale, the book is fueled by the actual voices of many of the pivotal characters who broke down the entrenched cultural divisions between high and low, gay and straight, and art and commerce—and whose impact is still largely felt today. The book also features many never-before-seen photos of this glamorous and dynamic time. Continue reading →