The Holy or the Broken: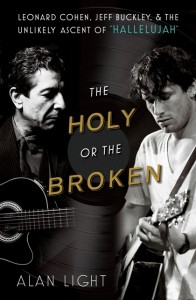 Leonard Cohen, Jeff Buckley, and the Unlikely Ascent of "Hallelujah" by Alan Light (Atria/Simon and Schuster)
When Leonard Cohen first recorded "Hallelujah" in 1984, he had no idea the song would become one of the most loved, most performed, and most misunderstood compositions of its time.  Looking at the history and impact of "Hallelujah" via extensive interviews and critical analysis, THE HOLY OR THE BROKEN is a biography of a song – its creation, its interpretation, its fixed and changing messages over time. First picked up by former Velevet Underground member John Cale, the song reached a haunting apotheosis with Jeff Buckley's classic, melancholy version. In the past 25 years it has been recorded and performed by hundreds of artists from Bono to Bon Jovi, Justin Timberlake to Celine Dion, Willie Nelson to Susan Boyle, been placed on various lists of the best songs of all time, and served as a national balm after 9/11. Given the song's powerful essence, its ambiguities and its remarkable history, the story of "Hallelujah" offers new and far-reaching possibilities for how we look at music.
"Former Vibe and Spin editor Alan Light's (The Skills to Pay the Bills: The Story of the Beastie Boys) brisk, engrossing study of 'Hallelujah' comes on the heels of Sylvie Simmons' definitive Cohen biography, but this book is brilliantly revelatory on its own. […] A masterful work of critical journalism."
—Kirkus (starred review)
"A charming ode to a pop music phenomenon…"
—Publishers Weekly
"Thoughtful and illuminating… [Mr. Light] is a fine companion for this journey through one song's changing fortunes."
—The New York Times
"A combination mystery tale, detective story, pop critique and sacred psalm of its own."
—The Daily News
"A deeply researched mixture of critical analysis and cultural archaeology."
—Los Angeles Times
"Keeps the pages turning… A well-constructed, consistently enlightening book, which should have Cohen devotees and music fans alike seeking out their favorite version of the song."
—The Boston Globe
"Fresh and compelling."
—Entertainment Weekly
"Reverentially details every stage in the [song's] evolution—and along the way, he reveals the compelling stories behind some of its most iconic interpretations."
—The Atlantic
"Absorbing…Eloquent… Light expertly unpacks the song's long, strange journey to ubiquity."
—The Village Voice
"A must for music fans."
—Booklist (starred review)