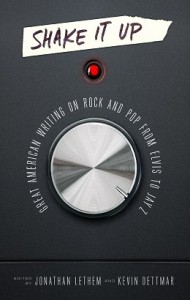 Shake It Up: Great American Writing on Rock and Pop from Elvis to Jay-Z
edited by Jonathan Lethem and Kevin Dettmar
(Library of America)
THE ESSENTIAL PLAYLIST OF GREAT WRITING ABOUT THE MUSIC THAT ROCKED AMERICA 
Jonathan Lethem and Kevin Dettmar's Shake It Up invites the reader into the tumult and excitement of the rock revolution through fifty landmark pieces by a supergroup of writers on rock in all its variety, from heavy metal to disco, punk to hip-hop. Stanley Booth describes a recording session with Otis Redding; Ellen Willis traces the meteoric career of Janis Joplin; Ellen Sander recalls the chaotic world of Led Zeppelin on tour; Nick Tosches etches a portrait of the young Jerry Lee Lewis; Eve Babitz remembers Jim Morrison. Alongside are Lenny Kaye on acapella and Greg Tate on hip-hop, Vince Aletti on disco and Gerald Early on Motown; Robert Christgau on Prince, Nelson George on Marvin Gaye, Luc Sante on Bob Dylan, Hilton Als on Michael Jackson, Anthony DeCurtis on the Rolling Stones, Kelefa Sanneh on Jay Z. The story this anthology tells is a ongoing one: "it's too early," editors Jonathan Lethem and Kevin Dettmar note, "for canon formation in a field so marvelously volatile—a volatility that mirrors, still, that of pop music itself, which remains smokestack lightning. The writing here attempts to catch some in a bottle."
Also features:
NAT HENTOFF on BOB DYLAN
AMIRI BARAKA on R&B
LESTER BANGS on ELVIS PRESLEY
ROBERT CHRISTGAU on PRINCE
DEBRA RAE COHEN on DAVID BOWIE
EVE BABITZ on JIM MORRISON
ROBERT PALMER on SAM COOKE
CHUCK KLOSTERMAN on HEAVY METAL
JESSICA HOPPER on EMO
JOHN JEREMIAH SULLIVAN on AXL ROSE
ELIJAH WALD on THE BEATLES
GREIL MARCUS on CHRISTIAN MARCLAY
and much more.
Jonathan Lethem is the author of The Fortress of Solitude and nine other novels.
Kevin Dettmar is a literary, music, and cultural critic whose scholarship specializes in British and Irish modernism and contemporary popular music. He has written for academic anthologies as well as The Atlantic Monthly and The Chronicle of Higher Education. Dettmar is the co-editor for Oxford University Press book series Modernist Literature & Culture, general editor of the Longman Anthology of British Literature and The Cambridge Companion to Bob Dylan, and author of Is Rock Dead? and the 33 1/3 book Gang of Four: Entertainment! He is the W.M. Keck Professor and Chair of English at Pomona College, and is based in California.