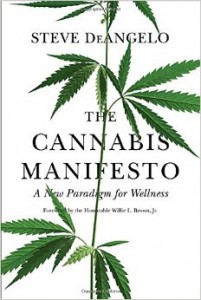 The Cannabis Manifesto by Steve DeAngelo (North Atlantic Books 2015)
With medical marijuana now being recognized as a major healthcare issue, the question is no longer whether cannabis will be legalized, or even when it will be legalized. The most important and pressing questions at this point are: how will it be legalized? How will it be regulated and marketed, by whom and in what manner? In THE CANNABIS MANIFESTO, longtime activist Stephen DeAngelo charts a clear, well-reasoned course to bring cannabis responsibly into the mainstream of American life. He looks beyond the question of if and when to examine the real challenges facing society as it brings this heretofore illegal substance out of the shadows.
Stephen DeAngelo is a longtime cannabis activist – arguably the national political leader of the $22.5 billion annual cannabis industry – and is the founder of the largest medical cannabis dispensary in the world, The Harborside Health Center, based in the Bay Area. DeAngelo has been featured by The New York Times, Fortune Magazine, The Washington Post, CNN, The Associated Press, The Wall Street Journal, NPR, BBC, and many others. His creation of a model medical cannabis dispensary coupled with his extensive knowledge as a lifelong activist make him one of the most respected speakers in the cannabis and hemp industries.
Critical Praise
"In The Cannabis Manifesto, Steve DeAngelo has written what amounts to the Declaration of Independence for Cannabis."—Sara Davidson, author of Loose Change
"Steve DeAngelo is the earliest pioneer of socially responsible and patient- and community-centric cannabis distribution. If you are wondering if medical cannabis might help you or a friend or family member, or if you have questions about medical cannabis, or if you're just trying to figure out what this issue entails, let this book be your guide."
—Willie L. Brown, Jr., 41st mayor of San Francisco
"Steve DeAngelo is the kind of devoted activist who normally would get hospitals and schools named after him, if he had been advocating something more mainstream. He is articulate, fiercely tenacious, and lives by his own principles, in life and in business. But as our recent history has shown, he might have something more important than a monument—a victory."
—Peter Sagal, host of NPR's Wait Wait … Don't Tell Me
"A pioneering voice in the movement to liberate the cannabis plant and those who rely on it for health and wellness, Steve DeAngelo shares his vision for a more just world in this forward-thinking manifesto."
—Aaron Smith, executive director of National Cannabis Industry Association
"Steve DeAngelo has been an icon in the cannabis movement and industry for a very long time. I don't know that there's anyone on the planet right now that possesses Steve's level of business savvy and knowledge of the cannabis plant. When Steve offers up his wisdom, people should listen and try to soak up as much knowledge as they can. I know I do. The Cannabis Manifesto is a book that every cannabis enthusiast should have on their bookshelves."
—Johnny Green. editor of the Weed Blog
"By willing into existence a lab to test the cannabis provided to patients by his dispensary, Steve DeAngelo jump-started the CBD era in America."
—Fred Gardner, managing editor, O'Shaughnessy's clinical journal
"Steve DeAngelo says what needs to be said in this bold and thoughtful manifesto.  He's a role model for budding cannabis entrepreneurs who understand the unique relationship of this nascent industry to the broader struggle for freedom and justice in America."
—Ethan Nadelmann, Founder and Executive director of the Drug Policy Alliance.
" There's no greater authority in the United States on marijuana and the laws surrounding it than Steve DeAngelo."
—Morgan Spurlock, Oscar-nominated documentary filmmaker, producer, CNN's Inside Man
"Finally, an intelligent public discourse about cannabis. Steve DeAngelo, with his huge heart, brilliant mind, and activist spirit, has created in The Cannabis Manifesto an invitation to a promising paradigm shift."
—Ricky Williams, NFL professional, Heisman Trophy winner