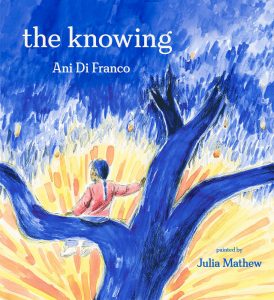 By Ani Di Franco
(Rise x Penguin Workshop, March 2023)
From the Grammy award-winning singer-songwriter, political activist, and feminist icon comes a picture book with purpose, with heart, and with words that sing.

Singer-songwriter, activist, feminist, and best-selling author Ani Di Franco has written something for her youngest audience: a picture book that invites young readers to ponder the distinction between outer forms of identity and the inner light of consciousness that is even more central to our being. In her signature folk style, Di Franco weaves a story that incorporates themes of individual power and collective responsibility. First-time illustrator Julia Mathew paints universal scenes of childhood in her family's native India, glowing with honesty and love. Designed to be read aloud or sung, and pored over, this picture book is rich with meaningful text, poignant illustrations, and a unique message that will resonate with all.
****
"The interconnectedness of humanity shines throughout this affirming picture book from singer/songwriter Di Franco…. A sweet, lyrical book perfect for bedtime sharing."
–Kirkus Reviews
"A book that is well worth revisiting, with a comforting tone to the whole project that speaks to love and connection, with others and with your own personhood in the world."
–The Bulletin of the Center for Children's Books
"Di Franco's debut picture book offers up a rhyming reverie on selfhood and collective consciousness….presented with an genuine openheartedness that should both intrigue and reassure."
–Publishers Weekly
****
Ani Di Franco is a Grammy-winning musical artist and feminist icon recognized for her poetry and songwriting which pierces social convention and challenges the status quo, as well as for her social activism and political engagement. One of the first artists to create her own label in 1990, she is the mother of the DIY movement and has sold over 5.5 million albums on her own Righteous Babe Records, and recently released her twentieth studio album. While she has been known as the "Little Folksinger," her music has embraced many genres and collaborators ranging from Pete Seeger to Chuck D to Prince. She lives in New Orleans.