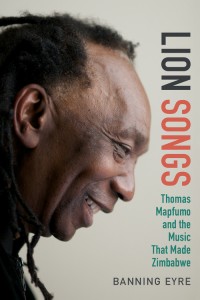 Like Fela Kuti and Bob Marley, singer, composer, and bandleader Thomas Mapfumo and his music came to represent his native country's anticolonial struggle and cultural identity. Mapfumo was born in 1945 in what was then the British colony of Rhodesia (now Zimbabwe). The trajectory of his career—from early performances of rock 'n' roll tunes to later creating a new genre based on traditional Zimbabwean music, including the sacred mbira, and African and Western pop—is a metaphor for Zimbabwe's evolution from colony to independent nation. Lion Songs is an authoritative biography of Mapfumo that narrates the life and career of this creative, complex, and iconic figure.
Banning Eyre ties the arc of Mapfumo's career to the history of Zimbabwe. The genre Mapfumo created in the 1970s called chimurenga, or "struggle" music, challenged the Rhodesian government—which banned his music and jailed him—and became important to Zimbabwe achieving independence in 1980. In the 1980s and 1990s Mapfumo's international profile grew along with his opposition to Robert Mugabe's dictatorship. Mugabe had been a hero of the revolution, but Mapfumo's criticism of his regime led authorities and loyalists to turn on the singer with threats and intimidation. Beginning in 2000, Mapfumo and key band and family members left Zimbabwe. Many of them, including Mapfumo, now reside in Eugene, Oregon.
A labor of love, Lion Songs is the product of a twenty-five-year friendship and professional relationship between Eyre and Mapfumo that demonstrates Mapfumo's musical and political importance to his nation, its freedom struggle, and its culture.
WINNER OF THE KWABENA NKETIA BOOK PRIZEBanning Eyre is a freelance writer and guitarist and the senior editor and producer of the public radio program Afropop Worldwide. He is the author of In Griot Time: An American Guitarist in Mali, Playing With Fire: Fear and Self-Censorship in Zimbabwean Music, and Guitar Atlas: Africa, and the coauthor of AFROPOP! An Illustrated Guide to Contemporary African Music. Eyre is a contributor to National Public Radio's All Things Considered, and his writing has been published in Billboard, Guitar Player, Salon.com, the Boston Phoenix, CMJ, Option, Folk Roots, Global Rhythm, and other publications. He has also performed and recorded with Thomas Mapfumo.